If you enjoy your paranormal romance, with just a dash of the old South, a little Voodoo-stamped heritage, and a hauntingly troubled aristocrat then you're sure to fall in love with, Oxford Whispers. It has so much depth, incredible appeal, and a powerful rich story with ample amounts of heritage, love, and hauntingly appealing history. I promise, you will not be bored one ounce with this book. Plus, it falls into the New Adult/Mature YA (17+) category. It's a new one for me, but so far I've pretty much loved every book that I've read from that new genre.

Also, Marion Croslydon was nice enough to share a guest post and an awesome giveaway with us today!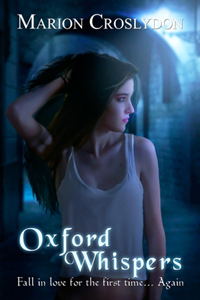 Oxford Whispers by Marion Croslydon
Publication: April 30, 2012
Genre: Paranormal Romance
Age Demographic: Mature YA/New Adult
Promotional Event: AToMR
"Fall in love for the first time...Again."
Madison LeBon is dead set against the dead.

Her fresh start at Oxford University is a brand new beginning. She finally has a chance to turn the page on her psychic powers and cumbersome voodoo heritage. Snakes, dolls, ghosts, and spirits: Farewell…

Not quite.

When the tragic lovers in a painting—the subject of her first history class—begin to haunt her, she must accept her gift before life imitates art. The lovers warn her against their own nemesis, a Puritan from the English Civil War. Unfortunately, said nemesis is now going all homicidal on Madison.

College becomes more complicated when she falls hard for Rupert Vance, a troubled aristocrat and descendant of one of the characters in the painting. With the spirit of a murderer after her, Madison realizes that her own first love may also be doomed…
TO PURCHASE A COPY OF OXFORD WHISPERS BY MARION CROSLYDON visit:
Amazon

Six Words for OXFORD WHISPERS
Oxford – I know, I know, sounds obvious since it's in the title. But Oxford is more than just a setting. It's a character. Its cobbled streets, ancient colleges, cozy pubs provide the crush and color of a busy world surrounding the little dramas that Madison and Rupert are experiencing.
Reincarnation

– This is something I believe in and the core of the plot. The characters in a real-life painting, The Wounded Cavalier, are given a second chance at happiness… or revenge.
Firsts –

This is why I write New Adult. Oxford Whispers is about falling in love for the first time, but also leaving home for the first time and being on one's own…
Honesty –

Madison and Rupert go through a lot of troubles because they're not honest with each other… and with themselves. The story shows how they're learning to be true to themselves or to each other.
Grief –

How to recover from loss, but also how it's often mixed with guilt.
Romance –

Again, sorry if it sounds obvious since it's the genre I'm writing. As a writer, I'm always trying to develop a relationship from a romantic angle. Sex is important (so are sex scenes and they're not easy to write!), but in this 50-Shades era, let's not forget about the 'va-va-voom'…