Have you guys been reading
along with us in
Anna and the French Kiss
?!

If you have,

Molli

and I, thought it would be fun to include some discussion questions to go along with the read-a-long. Ya know, just to kind of get to know one another a little better and also spark some extra discussion about this awesome book. So, I thought I'd share the first batch of them with you.
Discussion Questions
for
Chapters 1-16
Anna is afraid to really experience Paris when she arrives. Would you be, or would you look at it as an adventure?

Which of the characters we meet – Anna, St Clair, Josh, Rashmi, or Meredith – do you most identify with? Why?

Anna is drawn to St Clair, as well, everyone is. She wants to be "just friends" with him. Do you think this will be possible for her? Can a guy and a girl BE just friends?

What are your first impressions of Anna? Of St Clair?

What's your favorite moment from what we've read so far?

All you have to do is create a post on your blog that includes the read-a-long event button, with links back to both mine and

Molli's

blog, with your answers to the discussion questions. On Friday,

April 5th

, both Molli and I will be posting our answers to the questions as well - along with a linky where you can submit the link to your answers!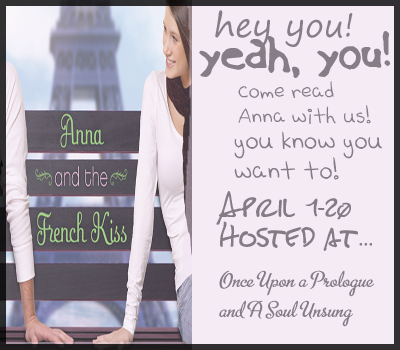 Hosted By:

Molli @ Once Upon A Prolouge

&

Suz @ A Soul Unsung
REMEMBER
Doing this could

possibly

earn you extra entry(ies) into the giveaways.