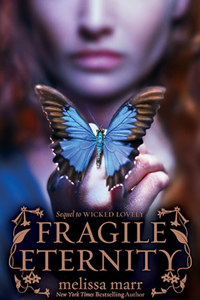 Fragile Eternity (Wicked Lovely #3)
By Melissa Marr
Published: April 21, 2009
Publisher: HarperCollins
Age Demographic: YA Dark Fantasy
Pages: 400
Seth never expected he would want to settle down with anyone - but that was before Aislinn. She is everything he'd ever dreamed of, and he wants to be with her forever. Forever takes on new meaning, though, when your girlfriend is an immortal faery queen.

Aislinn never expected to rule the very creatures who'd always terrified her - but that was before Keenan. He stole her mortality to make her a monarch, and now she faces challenges and enticements beyond any she'd ever imagined.

In Melissa Marr's third mesmerizing tale of Faerie, Seth and Aislinn struggle to stay true to themselves and each other in a milieu of shadowy rules and shifting allegiances, where old friends become new enemies and one wrong move could plunge the Earth into chaos.
To Purchase Fragile Eternity visit:

Fragile Eternity is a dark alluring foray delving further into the wickedly delicious world that Melissa Marr has wowed fans of this beguiling series with. Early on into the story, there is the promise of heart pounding action and an enticing build up to it, that will definitely catch the reader's attention, keeping them on the edge of their seat wondering what's to come next.

For the most part, the drama of the intricately complex tangled relationships between the characters, is what the story is mainly about. Deeply compelling, they have this fantastic way of pulling the reader into their world with them. The dark twists and turns of danger, is what causes the plot of this novel to come alive and flourish on the pages.

Deeply enthralling, Fragile Eternity is a novel, that readers will simply not want to put down.

The thing that makes this novel, as well as the series stand out as a whole, is the fact that Marr doesn't bend to conformity. She isn't the type of author who is going to wrap up her stories nice and neatly in little red satin bows and hand it to readers. She won't compromise her integrity as an author. She will write what she feels she has to write, for the sake of the story and the characters she's creating a world for.

If you enjoy dark stories full of deception, bitter rivals, and deep intimate webs of betrayal, then this is the perfect series for you to sink into. It is a world so intensely alive and darkly rich, that you'll find yourself bending to desire. Who's you may question, but you'll soon become so ensnared in the complicated beguiling world that Melissa Marr has so imaginatively created.