Hi guys! Welcome to my YA Crossover to NA Event, that I'll be hosting all month long during June. I'm really excited about it, because I have A LOT of great things planned like book giveaways, author interviews, reviews of various NA (New Adult) novels, etc. I'm really psyched to be able to shine the spotlight on such an awesome category that I'm hoping you guys will give more of a second look into.

I've heard and seen various reasons why some of you may not like the idea of New Adult books, which is why I'm hoping that I'll be able to turn all of that around by giving you some new suggestions of books and author's to look into in a wide variety of genre's.

So, to kick things off the right way and get started, I thought we could welcome

Hilary Weisman Graham

to the blog. I've had the awesome pleasure of interviewing her and gathering her thoughts on this new category called, New Adult, and various other things. I hope you stick around the check it out, plus there's going to be an international giveaway for a signed (US)/unsigned (international; provided book depository ships to your country) finished copy of her amazing book,

Reunited

. It's the perfect book to take with you to the beach this summer, for a fun light read.

Awesome Interview With
Hilary Weisman Graham
When it comes to YA and Adult novels, I've noticed there are some who are what you would call "closeted YA readers" and there are some who just won't read Adult novels because they either feel intimidated by them or just aren't drawn to the appeal of them. What sort of appeal or draw to New Adult, would pull them into that genre and possibly give them the kind of story they are or may be craving?

As a writer, one of my most important jobs is taking my beloved characters and plunking them smack in the midst of a struggle. And there's a lot of struggle in being a teenager or a new adult, which is why that time still holds strong memories for many of us. It was so freaking intense! Plus, it was the first time we inhabited a version of our adult selves. And I think readers of any age really connect with that.

What inspired you to want to write for the New Adult genre, versus writing for either YA or Adult in general? Were there any authors or books that might have you lured you into this genre?

I'm not sure what attracts me to the genre, but I tend to gravitate toward teen/new adult stuff in my screenwriting, too. It helps that I still have lots of friends I've known since childhood, and when we get together, we inevitably reminisce about high school, college, and our post-college years. Maybe even a little more than we should. ;)

Are there any books or specific authors in the New Adult genre that you would like to recommend?

I LOVE The Fault in Our Stars by John Green. Also, There Is No Dog by Meg Rosoff.

If you could go back in time and tell the "young writer" in yourself anything, what would it be and why?

Write more! And try not to be so hard on yourself. Like everythign else, the only way you'll ever get better is through practice.

What was the first book that you read, that inspired you to be a writer?

It didn't really work like that for me, but the first books that moved me as a teenager were Are You There God? It's Me, Margaret, The Outsiders and A Catcher in the Rye.

Was there anything in particular inspired the concept for you to write Reunited?

The idea for REUNITED actually came from my editor at Simon & Schuster who came up with a two-sentence concept about ex-best friends getting together to see a band they once loved. Since I'd experienced a friendship break-up of my own freshman year of high school, I really connected with those feelings, even though my story is very different than Alice, Summer, and Tiernan's. For most 14-year-old girls, their best friends are the most meaningful relationship they've had at that point in their lives, apart from their family, so I thought the idea of ex-best friends reuniting at the end of high school, when they're older and wiser, would make for an interesting story.

In Tweet-Style (140 character's or less), can you tell us what your novel is about?

1 concert. 2,000 miles. 3 ex-best friends.

Was there anything that you liked while writing Reunited, versus disliked while writing?

I can't think of any scenes I disliked writing, but my favorite scene to write was the kissing scene! But I don't want to include any spoilers here, so I won't tell you which one of the girls gets kissed.

All three of the girls in Reunited are just as colorful, imaginative, and uniquely different in their own ways. Is there one of them that you connected with more, while writing?

think Alice, Summer, & Tiernan all have parts of me in them, but if I had to choose, I'd say I'm a cross between Tiernan and Alice.

The girls absolutely worshiped the rock band Level3, was there any rock band or group/duo that you felt this way about when you were a teenager and who were they?

Personally, I have never been one of those crazy super-fans. And I never really got what was so damn important about buying the concert t-shirt. But I was always intrigued by girls who did go ga-ga over their favorite groups. And whenever I spend time wondering over something and asking myself questions about it (Eg., What separates the fan-girls from, say, me?) it's usually something worth writing about.

Are you reading anything at the moment, if so what is it?

I'm currently reading a lot of TV pilots (since I'm also a screenwriter) and PASTOR'S WIVES by Lisa Takeushi Cullen.

You've created some wonderfully vivid and amazingly colorful characters, were there any that you connected with the most? Who was the most fun to write? The most difficult?

I had fun writing all three main characters, but if I had to choose, I'd say my favorite character to write was Tiernan, because she's so snarky. I didn't find writing any of the girls to be difficult.

How has writing changed or affected your life and the way you look at it?


Ever since I've been writing full time, I find myself looking for the story in everything. Also, I take more notes.

How did it feel when you first realized that your book was going to be published?

Thrilled, a little nervous, and tremendously grateful. How did it feel afterwards? Exhilarating, a relief, and also, kind of a let-down. Ann Lamott has a great chapter about this in Bird by Bird.

SOUL BLAST

Ebook or Hardcopy/Paper? Paperback
Night or Day? Day!
Chaotic or Organized? Organized
White or Dark Chocolate? Dark Chocolate
Tea or Coffee? Coffee
Black, White, or Gray? Black
Dog or Cat? Cat
The Walking Dead or The Hunger Games? Homeland
Downton Abbey or Doctor Who? Breaking Bad

If you had a spirit animal (can symbolize certain aspects or quality of your personality, skills, traits, or emotion), what do you think it would be and why?

I once did a workshop to find my spirit animal, which, much to my dismay, turned out to be a bat! Seriously.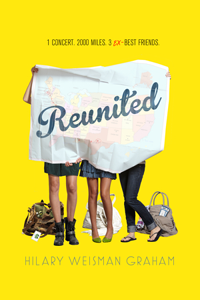 Reunited
By Hilary Weisman Graham
Published: June 12, 2012
Publisher: S&S BYR
Age Demographic: YA Contemp/New Adult
Pages: 336
1 Concert
2000 Miles
3 Ex-Best Friends

Alice, Summer, and Tiernan are ex-best friends.

Back in middle school, the three girls were inseparable. They were also the number one fans of the rock band Level3.

But when the band broke up, so did their friendship. Summer ran with the popular crowd, Tiernan was a rebellious wild-child, and Alice spent high school with her nose buried in books.

Now, just as the girls are about to graduate, Level3 announces a one-time-only reunion show.

Even though the concert's 2000 miles away, Alice buys three tickets on impulse. And as it turns out, Summer and Tiernan have their own reasons for wanting to get out of town. Good thing Alice's graduation gift (a pea-green 1976 VW camper van known as the Pea Pod) is just the vehicle to get them there.

But on the long drive cross-country, the girls hit more than a few bumps in the road. Will their friendship get an encore or is the show really over?
To Purchase Reunited visit:
I loved reading Reunited, because it took me back to those days when I was younger and hanging out with my core group of friends, listening to our favorite group. I won't say who that group was, but I will say that it was my very first concert and it was a total blast! A definite review for this amazingly fun book, will be coming later this week.

For now, Hilary Weisman Graham has generously offered one of you guys the chance to win a finished signed copy (if you're in the US) or unsinged (if you're international and the book depository ships to you) for giveaway! Trust me guys, you do not want to miss out on this book. It is super duper awesome. True facts!
a Rafflecopter giveaway