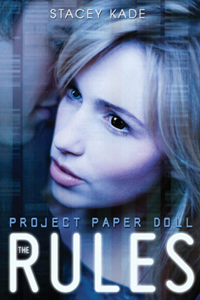 The Rules (Project Paper Doll #1)
By Stacey Kade
Published: April 23, 2013
Publisher: Disney-Hyperion
Age Demographic: YA Contemp/Sci-Fi
Pages: 416
1. Never trust anyone.
2. Remember they are always searching.
3. Don't get involved.
4. Keep your head down.
5. Don't fall in love.

Five simple rules. Ariane Tucker has followed them since the night she escaped from the genetics lab where she was created, the result of combining human and extraterrestrial DNA. Ariane's survival—and that of her adoptive father—depends on her ability to blend in among the full-blooded humans in a small Wisconsin town, to hide in plain sight at her high school from those who seek to recover their lost (and expensive) "project."

But when a cruel prank at school goes awry, it puts her in the path of Zane Bradshaw, the police chief's son and someone who sees too much. Someone who really sees her. After years of trying to be invisible, Ariane finds the attention frightening—and utterly intoxicating. Suddenly, nothing is simple anymore, especially not the rules.
To Purchase The Rules visit:

The Rules, is a fantastic sci-fi contemporary young adult novel that managed to hit all of the right spots with me. It came at a time when I was craving something that was a little more than contemporary and less fantasy, so it sort of became the "it" book for me. There's a wonderful blend of realism, teen angst, and suspenseful action to keep you on the edge of your seat. The characters are enjoyable, the story is heart wrenching and touching in various moments of the book, and the writing will pull you into the story. It's just a really great read!

It's incredibly easy to like all of the characters in this book. Ariane, is just all around awesome and totally kickass! Full of amazing strength, she has a bit of a stubborn streak half a mile wide. I loved the fact that she doesn't let other's pick on those weaker than them. She's just incredibly fierce and spirited! Although smart and witty, she doesn't come without flaws that frustrated me here and there, throughout the story. Some of her choices or decisions felt a bit redundant in some areas, but for the most she was definitely enjoyable.

Zane is charmingly sweet and incredibly super protective of Ariane. Their relationship was beautiful to watch unfold in such a slow progressive, realistic way. I love that it was just straight forward and honest, without involving insta-love. A lot of times, that can ruin a really good book for me, in so many ways. I'm was glad that Kade didn't incorporate that into this novel.

The Rules, is a cleverly written, captivating young adult contemporary with a fantastic blend of sci-fi that will definitely pull you into its world. You won't want to miss out on this book or the story it has to tell. There's a lot of action, tension, and wonderful build up going on in these pages. Definitely never a dull moment, with twists and surprises that you won't be expecting. The ending will definitely leave you clamoring for more.






As an award-winning corporate copywriter, Stacey Kade has written about everything from backhoe loaders to breast pumps. But she prefers to make things up instead.




She lives in the Chicago suburbs with her husband, Greg, and three retired racing greyhounds, Joezooka (Joe), Tall Walker (Walker) and SheWearsThePants (Pansy). When she's not reading or writing, you'll likely find her parked in front of the television with her Roswell DVDs, staring rapturously at Jason Behr.




The Ghost and the Goth is her first YA novel.