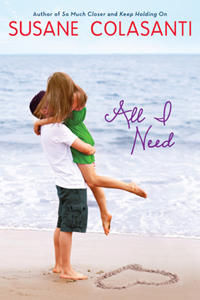 All I Need
By Susane Colasanti
Published: May 24, 2013
Publisher: Viking Juvenile
Age Demographic: YA Contemporary
Pages: 240
The last night of summer is only the beginning.

Skye wants to meet the boy who will change her life forever. Seth feels their instant connection the second he sees her. When Seth starts talking to Skye at the last beach party of the summer, it's obvious to both of them that this is something real. But when Seth leaves for college before they exchange contact info, Skye wonders if he felt the same way she did—and if she will ever see him again. Even if they find their way back to each other, can they make a long-distance relationship work despite trust issues, ex drama, and some serious background differences?

Teen favorite Susane Colasanti returns to the alternating-voice style of her beloved debut When It Happens in this Serendipity-inspired story about summer, soul mates, and the moments that change our lives forever.
To Purchase Obsidian Mirror visit:

All I Need is a perfect carefree whimsical romance for a great summer read! Susane Colasanti's character are wonderfully real and easy to connect with emotionally. This is a wonderfully written and compelling novel, that will make you laugh one minute and cry the next. It's such a heart-warming book filled with a fantastic cast of characters that you'll really enjoy. The romance is sweet and charming at its best and brilliantly showcases all of the ups and downs of a long-distance romance and the toll it can take on a couple.

Skye and Seth are easy to fall in love with. They each come with problems and complications of their own, but they also bring out the best in one another, too. Susane Colasanti write's this charming little love story, in such a way that is incredibly realistic and refreshing. I enjoyed the emotional way she was able to bring her characters to life. One of the best elements that makes this book so appealing, is the way she writes about love, loss, and the complexities of long-distance romance. It's a fun novel that showcases the sweet vulnerable aspects of young love, that any contemporary fan will enjoy. All I Need is a book that you will read in one sitting and come away from with a smile on your face.

Susane Consalati has penned a sweet, charming romance that is the perfect summer read for any fan of young adult contemporary. All I Need is filled with sweet memorable and heart warming characters, that are wonderfully deep, complex, and intriguing. You won't want to miss out on their story.