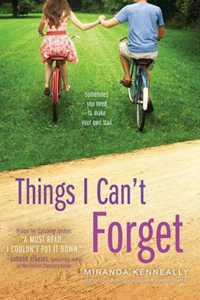 Things I Can't Forget
By Miranda Kenneally
Published: March 5, 2013
Publisher: Sourcebooks Fire
Age Demographic: YA Contemporary
Pages: 320
Companion to Catching Jordan and Stealing Parker.

Kate has always been the good girl. Too good, according to some people at school—although they have no idea the guilty secret she carries. But this summer, everything is different…

This summer she's a counselor at Cumberland Creek summer camp, and she wants to put the past behind her. This summer Matt is back as a counselor too. He's the first guy she ever kissed, and he's gone from a geeky songwriter who loved The Hardy Boys to a buff lifeguard who loves to flirt--with her.

Kate used to think the world was black and white, right and wrong. Turns out, life isn't that easy.

Note: Mature themes, sexual situations, religious discussions.
To Purchase Things I Can't Forget visit:

Things I Can't Forget is one of those young adult romance novels, that deals with heavy issues that every girl faces in such a realistic and relatable way. Kenneally does a wonderful job at bringing these issues to light, in such a way that readers are able to connect with the characters and the stories they have to tell. This novel, is a little bit different from her prior two novels. There are deeper issues and new territory to explore, but she does it in such a way that readers won't want to put this novel down until the last page has been turned.

It's easy to understand her characters, because Kenneally writes them in such a way that you can get inside their head and see their situation from their perspective. It makes the characters more likable and enjoyable to read about. Kate has a multitude of tough choices to make throughout this book and has to live with the secret that she keeps, from the choices she made regarding her best friend. She's the type of girl who is strong, steady, and always good. So, when things happen, and life seems like it's getting a bit too chaotic for her - she figures out just exactly what she's made of as she begins to shuffle some things around in her life. One of the best elements of the book, is that through her writing and the eyes of Kate, Kenneally shows readers that life isn't always as black and white as they think it might be.

Intensely gripping and emotional, Things I Can't Forget, will have leave readers churning. It has every element that a mature contemporary young adult novel should have, plus a few surprises along the way. The friendship and romance aspect, was brilliantly written and beautifully fleshed out. This is a novel that will dare readers to step outside of their comfort zone, much in the same way that Kate had to, and discover things about themselves they may not have discovered before. It's definitely a do not miss!