Guys, it's day four of the YA Crossover to NA event that I'm hosting all month long, and so far it's been pretty incredible! I'm excited to share all of these fantastic New Adult novels with you, as well as introduce you to some new and exciting author's. Today, I am joined by

Carrie Butler

who is the author of the scintillating and edgey new paranormal romance novel,

Strength

. This is such a dark, compelling, and intriguing read. I would definitely suggest adding this illusive gem to your collection.

For those of you who might have missed out on yesterday's awesome interview with the incredible

Alycia Linwood

, click the link above and it'll take you right to the post.

Now, how about I entice you a little bit more and share with you, some insight into this amazingly new and exciting world of paranormal romance that Carrie Butler has so creatively come up with?!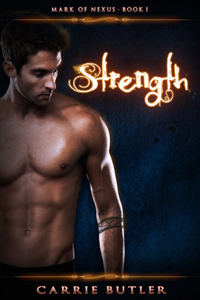 Strength (Mark of Nexus #1)
By Carrie Butler
Published: February 12, 2013
Publisher: Sapphire Star Publishing
Pages: 398
Age Demographic: New Adult Paranormal
When college student Rena Collins finds herself nose-to-chest with the campus outcast, her rumor-laced notions are shattered. Handsome, considerate, and seemingly sane, Wallace Blake doesn't look like he spends his nights alone, screaming and banging on the walls of his dorm room. Hell, he doesn't look like he spends his nights alone, period.

Too curious for her own good, Rena vows to uncover the truth behind Wallace's madman reputation--and how two seconds of contact had left her with bruises. Of course, there are a few setbacks along the way: guilt, admiration, feelings of the warm and fuzzy variety…

Not to mention the unwanted attention of Wallace's powerful, supernaturally-gifted family.

They're a bloodline divided by opposing ideals, two soon-to-be warring factions that live in secret among us. When Rena ends up caught in their crossfire, Wallace has no choice but to save her by using his powers. Now they're really in trouble. With war on the horizon and Rena's life in the balance, he needs to put some distance between them. But Rena won't let go. If fighting is what it takes to prove her own strength and keep Wallace in her life, then that's what she'll do--even if it means risking a whole lot more than her heart.
To Purchase the Thoughtless Series visit:

Watch the Trailer

A Insightful Interview With
Carrie Butler
Many people have their own thoughts as to what New Adult is or whether it should even be a genre of its own, what do you think New Adult is and do you think it has a place in the world of marketing books that appeal to mature young adults who are on the cusp of adulthood?
I like to think of New Adult fiction (NA) as a category that encompasses the transition between adolescence and adulthood. Protagonists typically fall between the ages of eighteen and twenty-six, and they are often portrayed experiencing: college, living away from home for the first time, military deployment, apprenticeships, a first steady job, a first serious relationship, etc.
(Other terms for NA include: Upper YA, Crossover Fiction, and Mature YA.)
As for NA having a place in the world of marketing books, I would say absolutely. This resurgence was a grassroots effort led by word of mouth. There's definitely a market out there, and for some, it's proving to be quite lucrative.
What is the most challenging aspect of writing New Adult?
Overcoming industry stigma. I wrote NA-type stories for four blissfully-ignorant years before I decided to pursue a writing career. By that point, the category had already been denounced by most agents and publishers. They said they couldn't sell novels with "college-aged" characters.
Obviously, that didn't sit well with me. In May of 2012, I helped found NA Alley—a site that has since become known as an informational hub for the category. Now, instead of dealing with industry professionals who dismiss the notion of NA, we get to field media misconceptions. Fun stuff, I tell you!
There have been some pretty disparaging remarks made recently in light of the New Adult genre, I've even heard it referred to as "YA with more sex" and I was wondering what your thoughts might be on pushing the limits of the stereotyping that New Adult has fallen prey to?
I think the only way to combat misinformation is to provide an equal (or greater) amount of accurate information. Whenever the opportunity arises, I make it a point to emphasize that NA works like any other category—it doesn't have to include sex at all. Dozens of genres fall under the NA umbrella, i.e. NA horror, NA thriller, NA sweet romance, NA fantasy, NA science fiction, etc. The sensationalist notion that NA is "YA with more sex" is inaccurate.
Describe yourself in three words.
Animated, determined, and persistent.
What inspired you to want to be a writer?
Oh, this one is easy. It was equal parts job market and persistent muse. ;)
In three words or less, can you describe sexy swoon-worthy Wallace?
Tortured, intense, and conflicted.
What were the ups and downs of writing Strength? The likes and the dislikes?
I had a great time writing Strength—unaware of industry politics, free from pressure and deadlines. It was fun. The less-than-desirable moments came afterward: rejection, people scoffing at NA, me second-guessing myself, etc.
This career is an emotional rollercoaster, and there are always going to be highs and lows. The important thing is that I keep moving forward, learning as I go. If I had stayed down after those rejections, I never would have experienced the high of getting a book deal!
Was there anything in particular that inspired you to write this novel? If so, what was it?
For years, I'd been toying with the idea of a unique, supernatural race. (Okay, three races.) One night, for whatever reason, I couldn't stop thinking about the concept of balance. I started jotting down notes while listening to music, and "All I Know" (the 2005 Five for Fighting cover) came on. The lyrics sparked something, and the next thing I knew, the romance element had fallen into place.
Do you plan on writing anymore books featuring the characters from Strength, will this become a series?
Yes,
Strength
(Mark of Nexus #1) is part of a proposed series. I'd also love to do a few novellas that focus on secondary characters, like Cole.
What do you hope to accomplish with your writing?
I just want to give readers an interesting world to escape to for a while. :)
Are there any must-have's or cravings that you absolutely cannot live without, while writing?
H2O! Is that boring? LOL
In Tweet-Style (140 character's or less), can you tell us what your novel is about?
When Rena falls for the campus outcast, she provokes supernatural warfare that puts a whole lot more than her heart at risk. (124 characters.)
SOUL BLAST
Ebook or Hardcopy/Paper? Ebook
Night or Day? Night
Chaotic or Organized? Organized
White or Dark Chocolate? Dark
Tea or Coffee? Tea
Black, White, or Gray? Black
Dog or Cat? Dog
The Walking Dead or The Hunger Games? The Hunger Games
Downton Abbey or Doctor Who? Doctor Who
If you had a spirit animal (can symbolize certain aspects or quality of your personality, skills, traits, or emotion), what do you think it would be and why?
Would it be cheating if I Googled "spirit animal" and took a quiz? Because apparently I'm a wolf—protective, loyal, and passionate!
Is there anything else that you would like to mention?
May I take this opportunity to thank you? I really enjoyed stopping by A Soul Unsung today! :)

Carrie has been sweet enough to offer a e-copy of Strength (Mark of Nexus #1) to one lucky winner. Just fill out the Rafflecopter below to enter the giveaway. Good luck! :)
a Rafflecopter giveaway