Guys! I'm incredibly excited to share this fantastic giveaway that

St. Martin's Giffin

and Julie Preg were awesomely generous enough to provide for this event! I know you guys are dying to know what this giveaway is.

*Drum roll please!*

One lucky winner is going to get the chance to win the first two books in the

Tempest
trilogy by

Julie Tempest

. How incredibly fantastic is that?! I absolutely swooned over this saga. I mean, I love the time travel, romance, and everything about it. It's so timey-whimey and terrific in so many delicious ways!
I'm telling you, that you absolutely don't want to miss out on this trilogy! Totally tripping fantastic, edge-of-your-seat, non-stop compelling action. Now who on earth would want to miss out on all of that?!
For those of you who might have missed out on yesterday's incredibly fun-tastic interview and giveaway with the sweet and zaney

Alycia Linwood

, click the link above and it'll take you right to the post.
Now, how about I entice you a little bit more and share with you, some insight into this wow-worthy sci-fi fanatical world that Julie Cross has so creatively come up with?! Don't ya wanna know, come on...you know you do!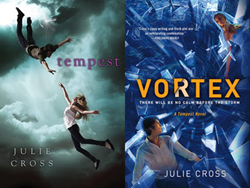 Tempest Trilogy
Tempest and Vortex
By Julie Cross
Publisher: St. Martin's Griffin
Age Demographic: YA/NA
Genre: Sci-Fi Romance
In Tempest, the year is 2009. Nineteen-year-old Jackson Meyer is a normal guy… he's in college, has a girlfriend… and he can travel back through time. But it's not like the movies – nothing changes in the present after his jumps, there's no space-time continuum issues or broken flux capacitors – it's just harmless fun.

That is… until the day strangers burst in on Jackson and his girlfriend, Holly, and during a struggle with Jackson, Holly is fatally shot. In his panic, Jackson jumps back two years to 2007, but this is not like his previous time jumps. Now he's stuck in 2007 and can't get back to the future.

Desperate to somehow return to 2009 to save Holly but unable to return to his rightful year, Jackson settles into 2007 and learns what he can about his abilities.

But it's not long before the people who shot Holly in 2009 come looking for Jackson in the past, and these "Enemies of Time" will stop at nothing to recruit this powerful young time-traveler. Recruit… or kill him.

Piecing together the clues about his father, the Enemies of Time, and himself, Jackson must decide how far he's willing to go to save Holly… and possibly the entire world.

And following Tempest in Vortex, Jackson Meyer has thrown himself into his role as an agent for Tempest, the shadowy division of the CIA that handles all time-travel-related threats. Despite his heartbreak at losing the love of his life, Jackson has proved himself to be an excellent agent. However, after an accidental run in with Holly—the girl he altered history to save—Jackson is once again reminded of what he's lost. And when Eyewall, an opposing division of the CIA, emerges, Jackson and his fellow agents not only find themselves under attack, but Jackson begins to discover that the world around him has changed and someone knows about his erased relationship with Holly, putting both their lives at risk all over again.
To Purchase the Tempest Trilogy visit:

Tempest is a heart pounding thrilling adventure of time travel, that will drag your emotions all over the place. Julie Cross has penned a phenomenal debut young adult novel, that is sure to captivate and wow any sci-fi fanatic out there! With complex characters, complicated story arc's, and intriguing creativity Tempest is a novel that you absolutely do not want to miss out on. Deeply compelling, I was engrossed from the moment I started reading the first page, until I finished the last. This book definitely kept me up past my bed time and was easily read in one sitting.

Such a stunning debut novel focusing on time traveling, it has a fantastic build up in suspense and intrigue. Involving life or death situations, saving his girlfriend Holly and possibly the entire world on his shoulders, Jackson has to make some heavy weighted decisions that could alter his life and world permanently. It is truly amazing and refreshing, to find a New Adult novel that focuses on time travel and less on intense mature subject matter. Plus, the fact that it's from a guy's point-of-view, who is a terrific character that is super easy to relate to and enjoy gives this book even more wow factor in my opinion.

Jackson is amazing! I absolutely adore him to pieces and found him to be one of my favorite things about this novel that definitely kept me intrigued and invested in it. He's just this sweet, charming, and wonderfully realistic character that you can't help but fall in love with. He's extremely confident, but not so confident that he comes off too cocky or irritating, which is probably one of the best qualities he possesses.

The romance is adorably sweet and beautifully written, in the sense that the thrill of the chase on Jackson's part wasn't quite as obvious, as I've found it to be in other young adult or New Adult novels. This made it even more enjoyable to read. Holly and Jackson are so wonderfully suited to one another, that it's hard not to fall in love with them and root for their relationship. Their story is heartbreaking and bittersweet in some ways and in other's, gorgeously developed and well written.

I was blown away with the dynamic of the novel in general and how well Cross was able to write such a truly fantastic story of romance and time travel in such a realistic way, by avoiding all of the pit falls and featuring the normal sci-fi cliched jargon. Tempest is full of creatively written and unique twists and turns in time travel that make it such a fantastic start to what's going to be an amazing new time travel series. The non-stop action from the beginning to the end, will absolutely blow you away. It's stunning, deeply compelling, and adventurous enough to pull you in from the get-go. This novel will have you on the edge of your seat biting your nails and anticipating the next twist in this incredibly thrilling saga.

You will not want to miss out on the Tempest series. Julie Cross has hit it out of the park with this one. Truly phenomenal!


Jessica Preg and

St. Martin's Griffin

has been sweet enough to offer a finished copy of both books in the Tempest Trilogy to one lucky winner. Trust me, you guys are gonna FALL IN LOVE with this trilogy for sure! :)
a Rafflecopter giveaway