I loved everything about

The Unloved

by

Jennifer Snyder

. It was a five star read for me, because it was so real, emotional, and I just fell in love with the characters and the story they had to tell. The deep bond of friendship and trust that ran deep and wide between between Nick and Julie, absolutely made my heartache with joy and sadness for the situations they found themselves in. They were truly fortunate to have one another. It's just a gorgeous story of friendship, love, loss, heartache, and so much more. You guys definitely don't want to miss out on this one for sure. Which, is why I'm so excited to be interviewing

Jennifer

on the blog today and sharing a giveaway for an e-copy of

The Unloved

with you guys.

For those of you who might have missed out on yesterday's awesome interview with the incredible

Angela Corbett

and my

WoW of the Week

featuring

Eternal Echoes
the next book in the

Emblem of Eternity

saga by

Angela Corbett

, click the two links above and they will take you right to both of the posts.
Now, how about I entice you a little bit more and share with you, some insight into this beautiful story of friendship and so much more that

Jennifer Snyder

has written?!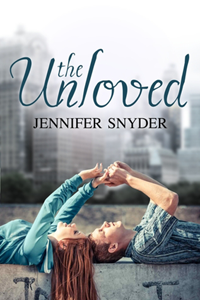 The Unloved
By Jennifer Snyder
Published: July 29, 2012
Publisher: Independent Publishing
Pages: 264
Age Demographic: New Adult Contemporary
Sometimes the love our heart needs to heal can be found in the familiar eyes of a childhood friend...

Julie Porter learned the hard way that trust is something which must be earned and not something to be given out lightly, those who say they love you are those who hold the power to hurt you most, and best friends can help you survive anything—until they move away.

Nick Owen knows a thing or two about a hard life. At a young age Nick learned how to take a hit and to make lemonade out of the lemons life tossed his way. Returning home after nearly two years of being away, all Nick cares about now is protecting his mom from the abusive hands of his father and catching up with his best friend—the girl who lived across the street, the girl he can't seem to stop thinking about.

Finally reunited after two years apart, Nick and Julie are about to learn that age does nothing to protect you from life's trials and tribulations, heartache and loss, but maybe together they'll find a way to survive.
To Purchase The Unloved visit:

A Fun & Insightful Chat With
Jennifer Snyder
I find myself craving more of the YA novels written by authors that are really pushing the envelope on what they can put in their books (those that are right on the cusp of being mature YA or even New Adult) without exactly crossing the line, is there a line that New Adult author's have to flesh out and adhere to as well? Or are they open to a great deal more and have a much more free reign on what they can and can't include in their novels than YA?

This is an interesting question. Personally, I don't think there is a very distinctive line drawn when it comes to New Adult novels as there is with Young Adult. In my experience with writing Young Adult novels, I think there was always a hesitancy to take the storyline deeper or make it more gritty like I might have wanted to for certain areas. I'm not talking about just sexual situations either; I'm also talking about language, violence, and even emotions. There always seemed to be moments where I had to remind myself of the age of my characters and rein in certain things. In New Adult novels authors are allowed a little more freedom I think with expressing emotions, sexual situations, and even the situations we place our characters in during their day to day lives.



What inspired you to want to write for the New Adult genre, versus writing for either YA or Adult in general? Were there any authors or books that might have lured you into this genre?

For me, I think it was the ability to shed the fear that I always bore of crossing the invisible line when writing a novel that might make it come off as being too much for the Young Adult crowd. I'm also a twenty-something author, so the appeal to write for those in my own age group was motivating.



What do you think is the most challenging aspect of writing New Adult?

The same thing with every novel in ever genre out there...coming up with either a fresh take on a storyline or coming up with something uniquely original.



There have been some pretty disparaging remarks made recently in light of the New Adult genre, I've even heard it referred to as "YA with more sex" and I was wondering what your thoughts might be on pushing the limits of the stereotyping that New Adult has fallen prey to?

While there is the ability to write more sexually explicit scenes in the New Adult genre due to the age range of the main characters, I don't think that is all these books have going for them. Not even by a long shot. There are also many situations readers of this specific age group can easily relate to—first real world jobs, moving out on their own, and college lifestyle just to name a few.



What would you consider to be your biggest strength in writing? Your weakest?

I'm going out on a limb here and saying writing emotions is my biggest strength. I really try to pull from life situations of my own to make sure the readers can 'feel' even a glimmer of the emotion I'm using. My weakest...being descriptive. As a reader I don't enjoy when an author describes things overly, so as an author I tend to shy away from too much description in my novels. Sometimes this gets me in trouble with readers who prefer more description when reading, but that's just how my stories come to me.



Some author's like to write in fist person pov, third, or dual pov's. Is there any particular writing style that you find, you either like or feel more comfortable writing in?

I really enjoy writing and reading dual POV novels. I feel as though you get the whole story. ;)



If you had to describe yourself in three words or less, what would those three words be?

Spiritual. Reserved. Passionate.



If you could only choose one book in the universe to attach yourself to, which book would it be and why?

Last year I read

On the Island

by

Tracy Garvis-Graves

. That book hands down is one of the best novels I've read in a long time. The characters and storyline really stuck with me.



What was the most interesting thing you discovered while writing The Unloved?

How easily Nick's voice and entire life came to me. He was stuck in my head in a big way while writing this novel!



Was it difficult to write for one character, than it was for another?

I don't think so. I enjoyed writing them both!



What or whom inspired you to become a writer?

Growing up, I always had a love for books. To name one person who inspired me to become a writer or even a 'what' would be unfair. There were so many stories I read growing up, and even recently in my life, that helped to move me in this direction.



Is there a book or series that you would read over and over? What is it?

The

Slammed Series

by Colleen Hoover. Incredible reads! The amount of depth and emotion she puts into her characters is astounding.



What are some of your writer quirks or habits?

Post-it notes keep me organized. I have a rainbow of them attached to my desk as I'm typing this. I write my best work around 2:00 in the afternoon for some reason. I save my blurbs for dead last. Having a cover early on for a novel really provokes story ideas for me. I jot down dreams I feel could be scenes or even entire novels one day. I feel as though chocolate can sometimes be a great motivator to get chapters done!



Is there anything new, in the way of novels that you may have in the works?

At the time of answering these questions I'm hard at work on my New Adult Paranormal Romance series. The first novel is titled

CATALYST

. I'm also jotting down ideas for a New Adult Contemporary I'm hoping to release late 2013.



SOUL BLAST




EBook or Hardcopy/Paper?

Both


Night or Day?

Day


Chaotic or Organized?

Organized


White or Dark Chocolate?

White


Tea or Coffee?

Tea


Black, White, or Gray?

White


Dog or Cat?

I'm gonna say cat, but I do have a dog. ;)


The Walking Dead or The Hunger Games?

I've never seen The Walking Dead. Gasp, I know! So, Hunger Games.


Downton Abbey or Doctor Who?

Never seen either!



If you had a spirit animal (can symbolize certain aspects or quality of your personality, skills, traits, or emotion), what do you think it would be and why?

Cat, because they're independent and cuddly.
Is there anything else that you would like to mention?

Those were some amazing questions. Thank you so much for having me today it was a blast!

Jennifer Snyder

has been so incredibly generous enough to offer an ecopy of

The Unloved

to one lucky winner. Just fill out the Rafflecopter below to enter the giveaway. Good luck! :)
a Rafflecopter giveaway





Blog

|

Twitter

|

Facebook




Jennifer Snyder

lives in a small town nestled in the mountains of Western North Carolina with her husband and two small children. Growing up, she was always an avid reader. Her mother spent way too much money on

R. L. Stine

and

Christopher Pike

books!

Writing a novel of her own wasn't something she'd ever given much thought to. It seemed like an unobtainable, far-fetched dream. Then, in late 2007, she attempted to put pen to paper for the first time. What came out wasn't pure gold. And what came out next wasn't either. Things didn't work that way for her. She had to write and rewrite and learn more about her 'voice' as an author first.

SHATTERED SOUL

was her debut novel and no, you haven't seen the end of me yet....