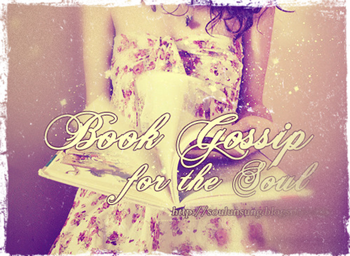 Book Gossip

For The

Soul

was originally inspired by Stacking The Shelves hosted by the lovely

Tynga @ Tynga's Reviews

. Every month, I'll post either a vlog or a post showing off all the books that I've received for review, bought, won, or borrowed.
This one is for the month of August 2013 and I hope that you guys enjoy it! I had a lot of fun thrift shopping and found some really awesome goodies this month that I wasn't expecting to find at all, which totally surprised me in a good way. I also received a couple of ARCs from a really good friend of mine
Molli @ Once Upon a Prolouge
, I'll link to her below so that you can check both her blog and Youtube/Goodreads out. She is an amazing blogger, definitely one of my favorites!
I know it's been a while since I've done one of these here, so I thought it would be a lot of fun and it might help to liven the blog up and break up some of the reviews that I've been posting lately. I have A LOT of those. I love to thrift shop more than anything, because you never really know what you might find, and I'm always on the look out as far as books go. So, when I'm able to spot a good deal like I did earlier this month, I definitely go for it.

If you've read any of these books, shared reviews on either your blog or Youtube channel, then leave a comment in the comments or downbar below and share your link letting me know what you thought of them. If you have any suggestions on books you think I might like to read (should be reading already), then definitely leave those below too. I'll be more than happy to come visit your channel or blog and leave comments on your recent hauls/reviews, etc.
I hope you guys enjoyed this!
You can find a list of the books mentioned below, as well as a link to their Goodreads page!
Unbreakable (Legion #1) by Kami Garcia
Infinityglass (Hourglass #3)
All Our Pretty Songs by Sarah McCarry
Where Beauty Lies (Sophia and Ava London #2) by Elle & Blair Fowler
Nantucket Blue by Leila Howard
The Elementals (The Vespertine #3)
Splendor (Luxe #4) by Anna Godbersen
The Truth About Forever by Sarah Dessen
Everneath (Everneath #1) by Brodi Ashton
Before I Fall by Lauren Oliver
Don't forget to check out
my youtube
channel!
Like me, thumbs me up, leave a comment with your link and I'll get back with you asap!