I was excited and super thrilled to originally be a part of

Kismet Book Tours

featuring

Tempation

and

Belonging

by

Karen Ann Hopkins

and was anticipating enjoying these two novels. I have always been fascinated by the Amish culture and have wanted to read more novels that feature it and romances, but for some reason these two books just didn't fit my style. The writing style was absolutely gorgeous and the story had beautiful potential, but the characters (namely Rose) weren't that easy for me to connect with emotionally. I honestly wanted to fall in love with the romance between Rose and Noah and really connect with their story, but sadly that wasn't the case. It did leave with a boat load of feelings though, thoughts that, even now are still niggling at the back of my brain.



Karen Ann Hopkins

has gorgeous writing style and can definitely make you feel things with her writing, in the frame up of her storytelling. I just think that it's more of a matter of how the story and the characters resonate with you, that dictates whether or not it will or won't be a book for you. I don't think that this is necesssarily a bad thing at all, since we all have different tastes and we like to have honest discussions about the books that we like, which means that I have no problem saying this here. She is an incredibly talented author who just has happened to have written two books that just weren't my cup of tea. I will definitely read anything else that she writes, though.

With that being said, I'm just going to feature each of the books in this series, along with a giveaway and I urge you guys to pick them up, read them, and then decide for yourself.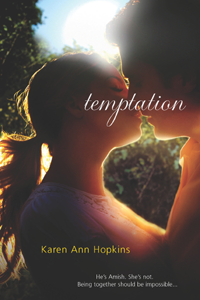 Get a copy of Temptation on:
Amazon
|
B&N
|
Indiebound
Your heart misleads you. That's what my friends and family say.
But I love Noah. And he loves me.
We met and fell in love in the sleepy farming community of Meadowview, while we rode our horses together through the grassy fields and in those moments in each other's arms.
It should be ROSE & NOAH forever, easy. But it won't be. Because he's Amish. And I'm not.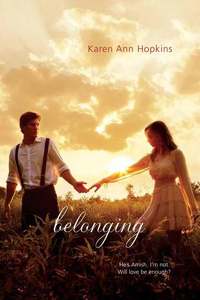 Get a copy of Belonging

:

Amazon

| B&N |

Indiebound
I left everything I knew behind.
But it was worth it. He was worth it.
No one thought an ordinary girl like me would last two minutes living with the Amish, not even me. There are a lot more rules and a lot less freedom, and I miss my family and the life I once had. Worst of all, Noah and I aren't even allowed to see each other. Not until I've proven myself.
If I can find a way to make it work, we'll be NOAH & ROSE together forever.But not everybody believes this is where I belong.
Pre-order a copy of Forever

:

Amazon

|

B&N

|

Indiebound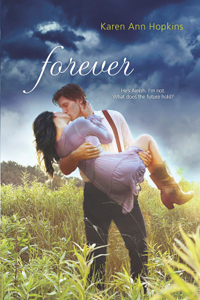 All I want is my happily-ever-after.
That's all I've wanted since meeting Noah Miller.
From the day we met, the world has tried to keep Noah and me from being together, but now that I'm carrying his child, no one will be able to tear us apart. Or so I hope. But Noah and I have made some mistakes along the way, and the consequences are impacting the people we love.
Worse, there's a storm on the horizon, and it's sure to cause serious devastation. If we can get through this, we'll finally be Rose and Noah; a family, forever. But first we have to survive the road ahead. And happily-ever-after is a long way off.
A native of New York State, Karen Ann Hopkins now lives with her family on a farm in northern Kentucky, where her neighbors in all directions are members of a strict Amish community. Her unique perspective became the inspiration for the story of star-crossed lovers Rose and Noah. When she's not homeschooling her kids, giving riding lessons or tending to a menagerie of horses, goats, peacocks, chickens, ducks, rabbits, dogs and cats, she is dreaming up her next romantic novel.