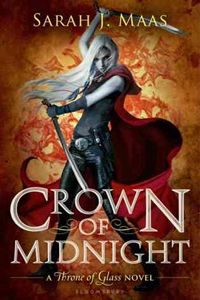 Crown of Midnight by Sarah J. Maas
Published: August 27, 2013
Publisher: Bloomsbury USA Childrens
Age Demographic: YA Fantasy
Pages: 432
An assassin's loyalties are always in doubt.
But her heart never wavers.

After a year of hard labor in the Salt Mines of Endovier, eighteen-year-old assassin Celaena Sardothien has won the king's contest to become the new royal assassin. Yet Celaena is far from loyal to the crown – a secret she hides from even her most intimate confidantes.

Keeping up the deadly charade—while pretending to do the king's bidding—will test her in frightening new ways, especially when she's given a task that could jeopardize everything she's come to care for. And there are far more dangerous forces gathering on the horizon -- forces that threaten to destroy her entire world, and will surely force Celaena to make a choice.

Where do the assassin's loyalties lie, and who is she most willing to fight for?
To Purchase Crown of Midnight by
Sarah J. Maas:

Amazon

I don't even know how to start this review for

Crown of Midnight

, because I have so many

FEELS

for this novel...I can't even words right now! Seriously, hands down, this is

THE BEST

book that I have read so far this year and definitely one of the most anticipated. I was literally up until all hours of the night reading this, I absolutely could not bring myself to put it down.

Crown of Midnight

is so completely enthralling and filled with so much mystery, suspense, and dangerous twists and turns around every corner that you'll be completely captivated by the story

Sarah J. Maas

has created. The plot, the characters, and imagery are phenomenal and kept me drooling all over the pages as I devoured this book.

I cannot say enough good things about this amazing and thrilling sequel to,

Throne of Glass

.

Maas

really did hit it out of the park with this, by bringing in more danger and super complex complicated games that will have loyalties tested at every available opportunity imaginable. Mysterious and edgy, you are going to absolutely fall in love with

Crown of Midnight

. Talk about a nail biter, this one definitely fits the profile. What more could you ask for in such a perfect follow up to an amazing start? Dark suspicion, adventurous and daring danger, intrigue, swoon-worthy boys, and romance.

Oh, the romance and the boys! How could you choose, Chaol or Dorian!? Dorian or Chaol?! One's dark and broody and the other one is oh so, tricksy and undeniably sexy. It's just...Guh! And they're both absolutely kickass and for spoilers sake, I won't say what happens or who Celaena picks, but there's definitely a connection between her and both of them. You'll just have to read to find out what (who) it is.

If you love kickass fantasy, amazingly strong and brilliantly developed characters, and intriguing plot suspense then this is the novel for you. Seriously, it is! So, you should go pick it up as soon as it hits shelves in bookstores near you. It is the absolutely perfect, most super genius, fantasy filled world that I've seen written in a while and that's saying a lot! Mostly I like fantasy, but this book absolutely made me fall in love with fantasy. This is absolutely how it's supposed to be done.

So, what are you waiting for?! You should go pre-order this...NOW!