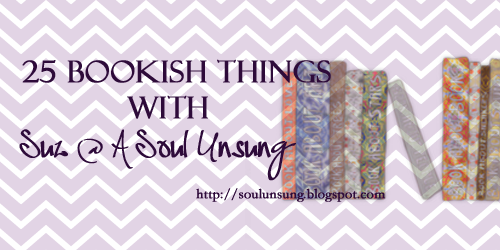 I discovered a whole new "bookish community" on Youtube several months ago, where I've since become addicted to "booktubers". They're a lot like book bloggers in a sense, in fact some of them are book bloggers, except they blog about books on youtube and it's awesome. They're incredibly funny and fun to watch, they've got great personalities, and you can't help but really like them. They're also super creative and they've come up with all of these different "bookish" tags that you can do, whether you've been tagged or not.

So, I thought it would be fun to share the one that I did with you guys. It's the 25 Bookish Things About Me tag that Kate at Kate's Book Club came up with. You can check out her original tag here. I just wanted to do something fun with you guys, a little more insight into who I am, bookish-wise, and lighten up the blog a little bit.

I hope you enjoy and subscribe to my channel below!