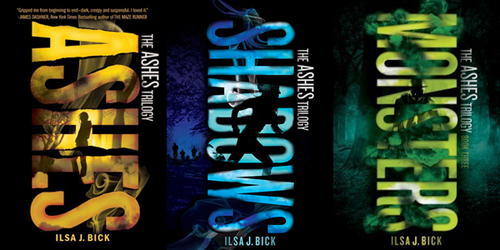 Recently, I had the chance to do a marathon read of the amazingly dark and intriguing

Ashes Trilogy

by the super incredibly talented

Ilsa J. Bick

. For those who have already read the trilogy or the first two books in the trilogy, I don't have to tell you how brilliant and fantastic this dark chilling dystopian world she's created really is. For those of you who haven't read it already, what are you waiting for?!
Read. It. Now.

Seriously, I loved every single minute of reading this trilogy, and I am so thrilled to have

Ilsa J. Bick

on the blog today talking about everything from "keeping the cats in kibble" to what inspired her to create this stunning world Alex and Tom find themselves fighting for their survival in. I also have a giveaway for a copy of the final book in the trilogy,

Monsters

as well, so stay tuned for that too!
Author Interview
with Ilsa J. Bick
What inspired you to create the world that Alex and Tom find themselves fighting for survival in?



Honestly? Envy. Really.

About four or five years ago, I read a very good book with an end-of-the-world scenario and liked it so much I found myself wondering if I could pull off something like that. The problem I felt with that book—and others like it, though—was that the setups weren't that believable; people were too well behaved; and/or we were dropped into societies eons after whatever catastrophe had taken place. So I decided that if I were to try something like that, the science would have to be fairly solid; people would act like the savages they can be; and I would let things evolve rather than simply drop readers into a world that's already changed. What I was after for civilization to crater pretty quickly (and not because of a virus or plague, which I thought had been done to death), and then to put my characters in places where, you know, you can't just go raid the nearest Wal-Mart.



The final book in this trilogy was pretty epic and incredibly intense, what was it like for you finishing the last chapter and knowing that it was finally over?



Well, it was both exhilarating (like, yay, me!) but also really a bummer. I mean, I'm very proud of what I've done with these folks and this story. In a way, though, I can't believe it's over. Having lived with these guys for a couple of years now, the idea of letting them go and, maybe, never revisiting them, checking up on how they're doing and all that, is actually kind of painful. There's no relief here either: just sadness. These are kids I really care about. So part of me is hoping they drop a dime and suggest that I revisit their lives. But we'll see.



Now that the Ashes trilogy has come to an end, can you tell us what you have in store next?



Sure:

WHITE SPACE

, the first book in my new

DARK PASSAGES

series, will be coming out in February 2014, and I'm currently working (more like hand-to-hand combat) on the sequel,

THE DICKENS MIRROR

. Think The Matrix meets Inkheart and Inception, and that will give you a clue. They're basically YA horror/psychological thrillers with a dash of sci-fi and, in the case of

DICKENS MIRROR

, historical fiction. I mean, think about it: how do you know—really know—that you're real? How do you gauge that? (And what's real mean, anyway?) And what's life like between the lines?

Just as soon as I'm done with

DM

, I'll go back to a new standalone I'm about halfway through and then revisit the first book in another projected series that I've also got about half-written. By the time I'm all done with those, I'm sure I'll have thought of something else to write. Have to keep those cats in kibble.
Giveaway for a copy of Monsters
by Ilsa J. Bick
a Rafflecopter giveaway
The giveaway is for US ONLY, sorry internationals!
To Purchase Ilsa J. Bick's novels visit

Amazon

or

B&N

.