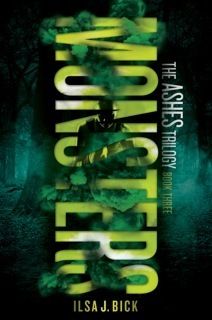 Monsters (Ashes Trilogy #3)
by Ilsa J. Bick
Published: September 10, 2013
Publisher: Egmont USA
Age Demographic: YA Dystopia
Pages: 688
The Changed are on the move. The Spared are out of time. The End...is now.

When her parents died, Alex thought things couldn't get much worse-until the doctors found the monster in her head.

She headed into the wilderness as a good-bye, to leave everything behind. But then the end of the world happened, and Alex took the first step down a treacherous road of betrayal and terror and death.

Now, with no hope of rescue-on the brink of starvation in a winter that just won't quit-she discovers a new and horrifying truth.

The Change isn't over.
The Changed are still evolving.
And...they've had help.

With this final volume of The Ashes Trilogy, Ilsa J. Bick delivers a riveting, blockbuster finish, returning readers to a brutal, post-apocalyptic world where no one is safe and hope is in short supply.

A world where, from these ashes, the monsters may rise.
To Purchase Monsters by Ilsa J. Bick visit:

Amazon

The

Ashes Trilogy

is one of the most intriguing and brilliant dystopian trilogies that I've read in quite a while.

I was lucky enough to be sent review copies for each of the books in the series, including the newest one

Monsters

, and have fallen in love with the dark and terrifying world that

Ilsa J. Bick

has created. I powered through all three of these books in the span of a week and when it was over, was still left craving more. I cannot even begin to tell you the many times that

Bick

had me on the edge of my seat anticipating the next twist or turn she was going to throw out at me from her bag of tricks.


In this darkly rich and terrifying post-apocalyptic world, absolutely no one is safe from the Changed who are now changing and evolving with help from another source. Originally inspired and alive with overwhelming danger and horrifying truths uncovered,

Monsters

will deliver you to brink of insanity and plunge you into a world where hope and safety are dwindling as fast as lives are being lost. The atmospheric chaos and brutal violence is palpable and the fear is as thick as the tension. The monsters are quickly rising up from the ashes and wrecking havoc in their wake. The world is turning darker than ever and what little hope that was left once flickering, is starting to burn out with each new demise of what once was.



Through it all, Alex has been to hell and back, literally.

Living with the monster in her head, left on her own to face incredible insufferable terrors, inevitable death and destruction at the hands of the monsters, and dangerous betrayal. It's been a long and winding treacherous road that she's been following, leading her to even more darkness, horrifying secrets discovered, and with no hope of rescue on her horizon at any point in the near future. Even while facing starvation in a bitter winter that is hell bent on taking her down as much as the monster in her head, she still plunges on.

She still pushes ahead and fights as hard as she can, showing readers that in a world where there is little hope, just maybe a flicker still burns inside of her.

The depth of her fear never holds her back from being incredibly brave, which is something that I can admire greatly in any character.

The cast of characters that

Bick

introduces in this trilogy are amazing and they all have their place and importance in the story being told. The way that she weaves them in and out of the story is absolutely amazing, given that it's such a big cast and they all have their own way of contributing bit by bit.

Another aspect of the story that I really enjoyed was that the romance between Alex and Tom didn't overshadow the story that she was telling, but rather complimented it.

Their whole reason from the beginning to the end of this series, was to be reunited with one another, yet it was told in such a way that it didn't detract from the main plot of the series or each of the books. Along their journey readers were given a chance to encounter new characters and get to know them, as both Tom and Alex fought their way back to each other. This made the idea of them coming together so much more real and believable. It will make you want to root for them, to see them end up together as they are so amazing and perfect for one another.

Their story is about love, survival, and hope in the face of extremely overwhelming odds. It's absolutely beautiful!



To say that Monsters was a head trip, would be an understatement. It literally was about all of the the monsters inside of your head, the demons that you fight, and try to stamp down every chance that you get. It's the spiderweb in the darkness that ensnares you and feeds off your fear, hastening your survival, and beckoning you away from the light. All of this and so much more, is what the characters in the

Ashes Trilogy

has to deal with in the final riveting installment of this epic series.

If you are a fan of dark dystopian novels, then this is the perfect trilogy for you. It is brutal, cunning, dangerous, full of survival, and has so much to offer.