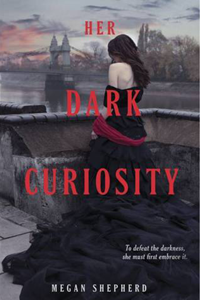 Her Dark Curiosity (The Madman's Daughter #2)
Megan Shepherd
Published: January 28, 2014
Publisher: Balzer + Bray
Age Demographic: YA Historical Mystery
Pages: 432
To defeat the darkness, she must first embrace it.
Months have passed since Juliet Moreau returned to civilization after escaping her father's island—and the secrets she left behind. Now, back in London once more, she is rebuilding the life she once knew and trying to forget Dr. Moreau's horrific legacy—though someone, or something, hasn't forgotten her.

As people close to Juliet fall victim one by one to a murderer who leaves a macabre calling card of three clawlike slashes, Juliet fears one of her father's creations may have also escaped the island. She is determined to find the killer before Scotland Yard does, though it means awakening sides of herself she had thought long banished, and facing loves from her past she never expected to see again.

As Juliet strives to stop a killer while searching for a serum to cure her own worsening illness, she finds herself once more in the midst of a world of scandal and danger. Her heart torn in two, past bubbling to the surface, life threatened by an obsessive killer—Juliet will be lucky to escape alive.

With inspiration from Robert Louis Stevenson's The Strange Case of Dr. Jekyll and Mr. Hyde, this is a tantalizing mystery about the hidden natures of those we love and how far we'll go to save them from themselves.

Note: I received an ARC of this book for review approved by the publisher's through
ATW ARC Tours
, in exchange for an honest review.
To defeat the darkness, she must first embrace it.

When I first read the

The Madman's Daughter

I was intrigued by the dark and maddening synopsis that drew me in, so when I learned of

Her Dark Curiosity

I was even more excited! I sat on pins and needles waiting to have a copy of this darkly rich and gorgeously told story in my hands and when it finally arrived, I could barely contain myself. I sat down immediately and became so ensconced in the world that

Megan Shepherd

had elaborately stitched together, that I could not put it down. I was so entranced by the world that she had created around this character, Juliet Moreau, that I have come to love and feel so much for.

The mystery of the hidden nature of love and humanity, are the two biggest elements that have really drawn me to this dark, suspenseful, and intense tale of deceit, destruction of oneself, and the undoing of others.



Her Dark Curiosity is a dark illustrious macabre of deep seeded mystery, compelling drama, and the unraveling of ones own being. Juliet has experienced more horrors at the hands of her father and this illness that she is fighting hard to find a serum for, than any other character that I have read about this year and that's saying quite a bit. She's a beautiful fragile soul, who is being forced to reconcile with a past that is rising to the surface, a heart torn in two when it comes to love, and escaping the secrets that she left behind on the island. I honestly don't know if I've ever seen a more quietly strong individual as her, whom I can feel for in the manner that I have come accustomed to feeling for her. Terrified, she is determined to find the killer who is wrecking havoc and death on those who are closest to her. Her strength and determination, in the face of the overwhelming painful issues she's dealing with, truly astound me. Actually, they inspired me on many human levels.

Shepherd has definitely cornered the market on breathing new life and inspiration into a story inspired by the original

Strange Case of Dr. Jekyll and Mr. Hyde

.

One of the most interesting elements or perhaps, facets of Juliet's personality, is dealing with the two different sides of her.

One where she is tipsy with cleverness, high intelligence, and a tiny bit of madness mingled in and the other where she is caring and sweet. She becomes this sort of unhinged wrapped up ball of intrigue for me, filled with so many human flaws that make readers either enjoy her or dislike her. For me, she is one of the most real things this novel or series has going for it, and I find that incredibly refreshing. The idea that a character can be so incredibly broken with the ability to spin out of control on one hand, but can be reigned back in and possibly put back together. The idea that all hope isn't lost when it comes to Juliet, is what keeps wafting through my mind. It's always there in the shadows, staying with me long after I'd turned the last page of these tumultuous twists and turns.

There are books that pique your interest and arouse your curiosity and for me, Her Dark Curiosity, is one of those books that I became so taken with this year. I am eagerly anticipating the next book in this series, because I know it's going to as dark and deceptive, so filled with even more beguiling madness swirling around it as this one. Gritty and full of action, this book is definitely a must read for any fan of the idea behind

Dr. Jekyll and Mr. Hyde

. You absolutely won't be able to put this book down, until the twists and turns have all be taken, the deep secrets have been unraveled and revealed, and you have reached the final destination - the last page. I do think it's one of the year's best written novels, in the sense that it shows the dark and dueling sides of more than one personality and a person so fragile, that they must fight to just to keep fighting in order to survive.

I don't think I've witnessed anything like this since Buffy Summers came back as dark and broken as she did in Season 6 of

Buffy the Vampire Slayer

and I found myself discovering a new love for the character for that reason. As unhealthy as it may have seemed, no one can deny that it made her character that much more interesting and compelling as the story unfolded, the same I believe applies to Juliet.