You guys,

Cassandra Clare

has revealed the gorgeous cover for the sixth and

FINAL

book in

The Mortal Instruments

series. I don't even know how to put into words what this series means to me, so I'll just go with this...

What

Cassandra Clare

does for

The Mortal Instruments

series is phenomenal. There is love, lies, betrayal, heartbreak, mystery, a whole seedy wonderful world of mythological beings, magic, legend and history, loyalty, family, and so much more that comes along with these books that keep me anticipating and holding my breath for the next one that will be coming out. Literally, like my fingertips actually itch to get hold of these books the second they are on shelves. I honestly don't know what I'm doing to do when it's all over with. Probably re-read them again, lol.

So, I want to show off my love for this series and the final installment, by showing off the gorgeous cover!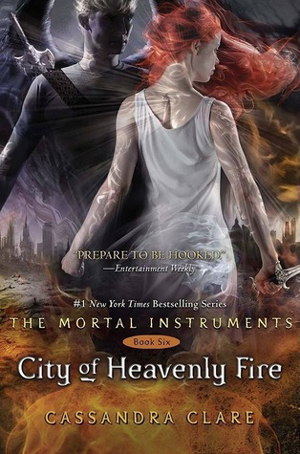 City of Heavenly Fire
The Mortal Instruments
Cassandra Clare
Coming May 27, 2014



ΕRCHOMAI, SEBASTIAN HAD SAID.

I am coming.




Darkness returns to the Shadowhunter world. As their society falls apart around them, Clary, Jace, Simon and their friends must band together to fight the greatest evil the Nephilim have ever faced: Clary's own brother. Nothing in the world can defeat him — must they journey to another world to find the chance? Lives will be lost, love sacrificed, and the whole world changed in the sixth and last installment of the Mortal Instruments series!
To Pre-Order a copy of
City of Heavenly Fire
by Cassandra Clare visit: