TODAY WE'RE HAVING A
COVER REVEAL ON THE BLOG
I
'm kind of super excited about this particular cover reveal, because it's for a fairytale retelling and it's also a book that I've been wanting to read and I finally added it to my Goodreads "tbr" list. I think the thing that has drawn me into this beguiling world of dark enchantments and whimsical characters, is that in Elorium the happily ever after's aren't guaranteed. I love it when there's a little more realism embroidered into the fairytales that are being retold these days, it somehow makes them more interesting and complex and less sugar and spice and everything all wrapped up in nice pretty little pink statin bows. I can't wait to dive headlong into the snappy battles with evil fairies and the giants, get swept up in the adventure, and unravel all the mysterious secrets the Elorium forest has to offer.
I WILL READ THIS BOOK THIS YEAR!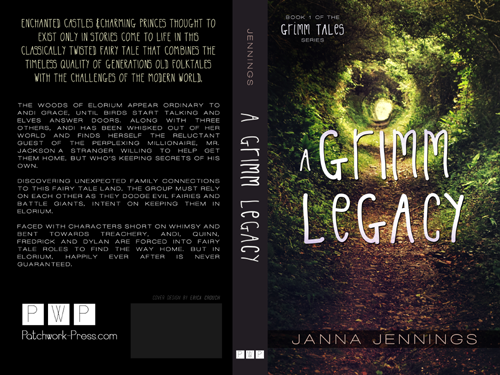 A Grimm Legacy (Grimm Memories #1)
By Janna Jennings
Patchwork Press
Young Adult Fairytale Retelling
Published October 29, 2013
Enchanted castles and charming princes thought to exist only in stories come to life in this classically twisted fairy tale that combines the timeless quality of generations old folktales with the challenges of the modern world.

The woods of Elorium appear ordinary to Andi Grace, until birds start talking and elves answer doors. Along with three others, Andi has been whisked out of her world and finds herself the reluctant guest of the perplexing millionaire, Mr. Jackson—a stranger willing to help get them home, but who's keeping secrets of his own.

Discovering unexpected family connections to this fairy tale land, the group must rely on each other as they dodge evil fairies and battle giants, intent on keeping them in Elorium.

Faced with characters short on whimsy and bent towards treachery, Andi, Quinn, Fredrick and Dylan are forced into fairy tale roles to find the way home. But in Elorium, happily ever after is never guaranteed.
To purchase a copy of A Grimm Legacy by Janna Jennings visit:
Amazon
&
B&N