Follow & Feature

is an awesome way to gain new followers, make new bloggy friends, and just have a lot of fun! It's run by two fabulous hosts,

Rachel @ Parajunkee's View

and

Allison @ Allison Can Read

. Every Friday, they'll feature two blogger's you should get to know and have a discussion question where you can link up and get to know other's.
This week's two feature blogs are...

Katie @ Worn Down Glories

is one of my favorite people that I've gotten to know. She's just really all kinds of awesome and she's also a co-blogger pal of mine at

Growing Beyond YA

. You guys should check out her blog and get to know her better, chat her up on Twitter, and Facebook her. She's got a lot of new things to offer coming up on her blog this year and I think it's going to be pretty amazing, even if I am a little bias because she's got such

FANTASTIC

tasted in books and we have a lot in common. I met her through another

blogging bestie

of mine and they are an

ADORABLE

couple whom I love and support tons!
So, go check these two awesome fierce gal's blogs out and follow them!
Question of the Week: Who is your blogger BFF? Tell us a little bit about him or her? If not tell us why you need or don't need a blogger BFF.
I would definitely have to say that

Molli @ Books & Whimsy

,

Katie @ Worn Down

Glories

,

Angie @ Disquietus Reads

, and

Marie @ Ramblings of a Daydreamer

are definitely my blogging besties. I love these girls so much and it's been a ton of fun blogging with them and getting to know them, because they don't just challenge me when it comes to books, but they also challenge and inspire me personally. I've known

Molli

the longest out of all of them, which means we're probably the closest in a lot of different ways, but I also adore the friendships that I've created with the other's.

Marie

makes me want to write, she's so super talented and I'm really enjoying reading her book

Waiting for the Storm

, in fact I'm hoping to finish it before this weekend is over.

Angie's

tweets always crack me up and I love the way that she encourages me to read a little bit out of my comfort zone, she loves to dish about our story

General Hospital

, and she's just incredibly feisty.

Katie's

more laid back and quiet, but she's pretty damn awesome too. I know I can always count on her if I really need someone to talk to and that means a lot. I've learned a lot about life and blogging about books through my friendships with these awesome gals. I wouldn't trade

ANY

of it for the world.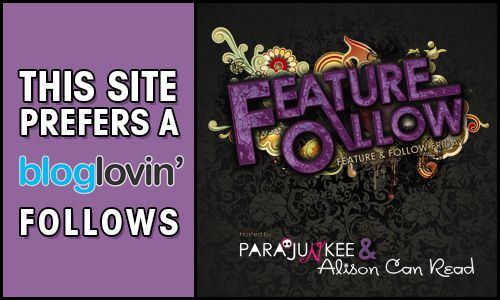 So, tell me, who's your blogging BFF? Have any new blogs you think I should be following? Leave a comment below and link up to your Feature & Follow Friday post!
Follow The Hop