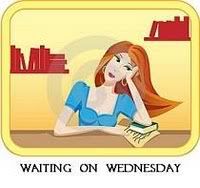 "Waiting On" Wednesday (or ya know WoW!) is a nifty little weekly event, hosted by the ever so lovely Jill at Breaking The Spine that totes puts the spotlight on various new and upcoming book releases that are totally "ohmigod! i gotta have this or i'll just die," eagerly anticipated.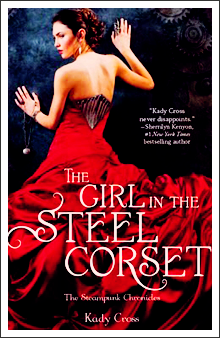 barnes&noble // amazon
Publish Date: May 2011
Publisher: Harlequinn
Age Range: Young Adult
Format: Hardcover, pp 480

She thought there was something wrong with her. She was right.Finley Jayne has known for quite some time that she isn't 'normal,' but when she beats up the son of her employer and is forced to flee, she stumbles into a world where there are bigger freaks than her. They take her in, treat her like family and demand her trust.

How can Finley trust them when she can't trust herself? And why is she drawn to the powerful Griffin as well as the dangerous Jack? She has to get herself under control before she gets into trouble she can't get out of.

Griffin King is one of the most powerful men in Britain but he couldn't save his best friend from almost dying. He is determined to save Finley and help her become the person he knows she can be, but there's evil afoot in London. Machines have attacked humans under the orders of a nefarious criminal called The Machinist.

He has sworn to protect his country against such a threat, but he's never faced any foe like this. However, when he discovers The Machinist's connection to his past, Griffin vows to end the villain once and for all — but he'll need the help of all his friends, including the beautiful Finley Jayne – the girl in the steel corset.
Synopsis thanks to: Goodreads.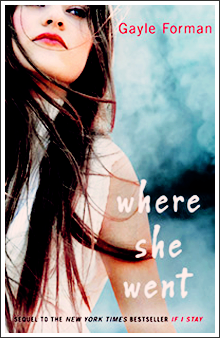 barnes&noble // amazon
Publish Date: April 5, 2011
Publisher: Penguin Group (USA)
Age Range: Young Adult
Format: Hardcover, pp 208

It's been three years since the devastating accident ... three years since Mia walked out of Adam's life forever.

Now living on opposite coasts, Mia is Julliard's rising star and Adam is LA tabloid fodder, thanks to his new rock star status and celebrity girlfriend. When Adam gets stuck in New York by himself, chance brings the couple together again, for one last night. As they explore the city that has become Mia's home, Adam and Mia revisit the past and open their hearts to the future - and each other.

Told from Adam's point of view in the spare, lyrical prose that defined If I Stay, Where She Went explores the devastation of grief, the promise of new hope, and the flame of rekindled romance.
Synopsis thanks to: Goodreads.
You can watch the trailer below for the book, but I suggest that you RUN NOT WALK to your local bookstore and pre-order this puppy or buy it when it's released.