Third Sentence Thursday is a nifty little weekly meme hosted by Sniffly Kitty's Mostly Books.

1) Take the book you are reading now and post the third sentence
2) Review this sentence anyway you want (funny and silly reviews encouraged)
3) Post a link to your sentence here or if you don't have a blog, just post it in the comments!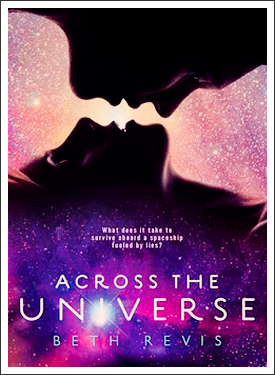 "She grows dimmer, but she does not break as she did last night." ; Across The Universe by Beth Revis

At this point in the book and with everything that's going on, I truly felt for Amy, Elder, and the rest of the other passengers on Godspeed, but mostly I was just sad. And I won't really go into any details about why, because that would spoil you. All I'll say, is if you haven't read this yet, you might want to pick up a copy.

I am about 30-ish pages give or take away from finishing this book and I have enjoyed it immensely. It was everything that I thought it would be and more and I was so afraid that the switching between pov's (as the story was being told) from Amy to Elder would be a little hard to follow along, but the author did such a fantastic job of making that work in the way it just flowed effortlessly.

There will definitely be a review for this book, following the one that I post for Lauren Myracle's "Shine" the date of it's release, which I believe is this upcoming Tuesday. So maybe be on the look out for a "double review feature" that may or may not happen, we'll see how much time I have because I like actually do the research and write up a decent review that's well thoughout and not rushed for time because I want to slap something up there.