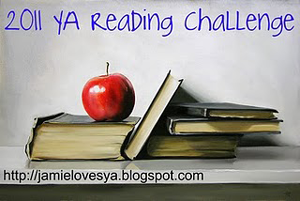 Thanks to Jamie over at JAMIE'S BOOKSHELF, this is a challenge totally up my alley since YA books are what I mostly read anyway. Plus, it has that nifty little advantage of being a challenge that I'm already ahead of the game in.

Few things about it: 1.) Anyone can join whether you have a blog or not, 2.) There are four levels of it, which you can read all about over here, and 3.) Just follow the link provided, check it out, and see if it's a challenge you might want to take on.

Oh, and the important thing is to have tons of fun with it, because what's a challenge if you're not having fun?! Right. :)

I'm going a little ambitious and am aiming for Level 4, which means I need to read 50+ YA books this year, which like I said before shouldn't be too hard for me. I'm already 7 in and in a matter of a day or two I'll be 9 in. I'm pretty ambitious when it comes to reading, although I didn't read as much as I normally do last year I did get quite a bit done I just didn't post it on goodreads and keep up with it like I should have been doing. But, then I had a lot of issues going on, too.

Books Read:


The Lipstick Laws by Amy Holder

Matched by Ally Condie

The Replacement by Brenna Yovanoff

Dark Secrets Vol. 1 by Elizabeth Chandler

Prom Nights From Hell (Anthology) by Meg Cabot, Kim Harrison, Lauren Myracle, etc.

Evermore by Alyson Noel

Blue Moon by Alyson Noel

Books Currently Reading:
Across the Universe by Beth Revis

Shine by Lauren Myracle (ARC thanks to Abrams Books by way of Netgalley)

TBR Pile:
Falling Under by Gwen Hayes

Where She Went by Gayle Forman Penguin Young Readers Group (USA) by way of Netgalley)

Princess of the Midnight Ball by Jessica Day George

Hex Hall by Rachel Hawkins

Anna and the French Kiss by Stephanie Perkins

Delirium by Lauren Oliver

City of Fallen Angels by Cassandra Claire

Angefire by Courtney Allison Moulton

Unearthly by Cynthia Hand

Elixir by Hilary Duff

Just a little fyi about my TBR pile, that's not my entire list of books that I plan on reading, as I will be adding more books a little bit at a time. These are just the books that I'm going to try to get around to reading fairly quickly, if it all goes well for me and I'm able to do that. So, yeah, I'm still Level 4 strong for sure.