Third Sentence Thursday is a nifty little weekly meme hosted by Sniffly Kitty's Mostly Books.

1) Take the book you are reading now and post the third sentence
2) Review this sentence anyway you want (funny and silly reviews encouraged)
3) Post a link to your sentence here or if you don't have a blog, just post it in the comments!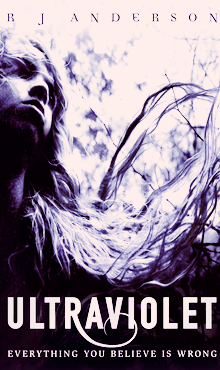 Ultraviolet By R.J. Anderson
ARC Provided By: Lerner Publishing Group
b&n // amazon
Published Date: September 2011
Publisher: Carolrhoda Books (A Division of Lerner Publishing Group)
Book Format: Hardcover, pp 264
"Her parents adored her, her teachers praised her, and her schoolmates admired her many talents." (pp. 2)



"Once upon a time there was a girl who was special. Unless you count the part where I killed her."



Sixteen-year-old Alison wakes up in a mental institution. As she pieces her memory back together, she realizes she's confessed to murdering Tori Beaugrand, the most perfect girl at school. But the case is a mystery. Tori's body has not been found, and Alison can't explain what happened. One minute she was fighting with Tori. The next moment Tori disintegrated -- into nothing.

But that's impossible. No one is capable of making someone vanish. Right? But Alison has always been different. Nobody else seems to see the world quite the way she does...

Ultraviolet is a genre-bending paranormal YA in which Alison discovers everything she's believed about herself and the world is wrong -- and taht she's capable of far more than anyone else would believe.
My Third Sentence Thursday comes from an ARC that I recieved through Lerners Publishing Group, Ultraviolet by R.J. Anderson. I'm really excited to start reading this, because the description on the back of the book looks really interesting. Plus the cover of the book is so pretty and sad looking, like the girl is lost. The thing that made me want to read this book ultimately was the cover, actually. It was what it said at the bottom, everything you know is wrong. It's almost like waking up one morning, looking into the mirror, and realizing that you aren't the person you've always thought you were - that the person who ihabits your skin and bones - isn't the person that you've been told you were all of your life. And then the next question besides the obviously, "who am I?" becomes "what happens next?"

I want to find out.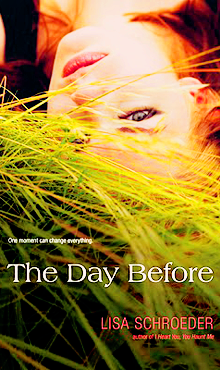 The Day Before
By Lisa Schroeder
b&n
//
amazon
Published Date:
June 28, 2011
Publisher:
Simon Pulse
Book Format:
Hardback, pp 320
Sometimes there's no turning back.

Amber's life is spinning out of control. All she wants is to turn up the volume on her iPod until all of the demands of her family and friends fade away. So she sneaks off to the beach to spend a day by herself.

Then Amber meets Cade. Their attraction is instant, and Amber can tell that he's also looking for an escape. Together they decide to share a perfect day: no pasts, no fears, no regrets.

The more time that Amber spends with Cade, the more she's drawn to him. And the more she's troubled by his darkness. Because Cade's not just living in the now--he's living each moment like it's his last.

*Summary taken from Goodreads.
And my WoW: Waiting On Wednesday (catch-up) book, is defintiely The Day Before by Lisa Schroeder. I really kind of excited about this book, because it's not like most of the books that I would normally read and also because the cover sort of reminds me of the cover for Lauren Oliver's, Before I Fall which I've heard amazing things about and cannot wait to read. I love books that move fast paced and stay pretty much in the now, as in living for the very moment that they're in. And this looks very promising in this, plus hot troubled boy who's mysterious. Definitely a plus.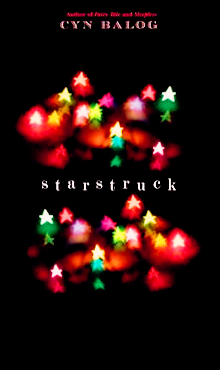 Starstruck
By Cyn Balog
ARC Provided By:
OUAT ARC Tour
b&n
//
amazon
Published Date:
July 12, 2011
Publisher:
Delacorte Books for Young Readers
Book Format:
Hardback, pp 256
Oh no. My mom hired a criminal. She must have killed of all the people on the island, and this was her only option. (pp 35)

Gwendolyn "Dough" X doesn't think she has much going for her—she carries a few extra pounds, her family struggles with their small bakery in a town full of millionaires, and the other kids at her New Jersey high school don't seem to know that she exists. Thank the stars for her longtime boyfriend, Philip P. Wishman—or "Wish." He moved away to California three years ago, when they were 13, but then professed his love for her via e-mail, and he's been her long-distance BF ever since.

At the beginning of her junior year, though, Wish e-mails that he's moving back to Jersey. Great, right? Well, except that Dough has gained about 70 pounds since the last time Wish saw her, while Wish—according to his Facebook photos—has morphed into a blonde god. Convinced that she'll be headed for Dumpsville the minute Wish lays eyes on her, Dough delays their meeting as long as she possibly can.

But when she sees Wish at school, something amazing happens. He looks at Dough like she's just as gorgeous as he is. But Wish is acting a little weird, obsessed with the sun and freaked out by rain. And the creepy new guy working at the bakery, Christian, is convinced that there's more to Wish's good looks than just healthy eating and lots of sun. He tells Dough that a mark on Wish's neck marks him as a member of the Luminati—an ancient cult of astrologers who can manipulate the stars to improve their lives. Is Wish and Dough's love meant to be—or are they star-crossed?

*Summary taken from Goodreads.
Okay, this is my last Third Sentence Thursday feature today, but considering it's already made me cry at least once so far and I'm only like 35 pages into it - I have this feeling that it's going to make me cry again and it's almost going to be a really good book that I won't forget anytime soon. Right off the bat, I totally indentify with Gwendolyn aka "Dough."

I had weight issues when I was in school, I went up and down, and I wasn't that popular either. Plus, I had really dark extra curly hair that had a tenency to oh, I don't know - frizz everyday for the rest of my life. There were days when I was harassed and made fun of so badly that I just wanted to disappear and there were days when I wish that I could possibly afford at least one cool outfit and pray that my hair had a fairly decent day, so that maybe I might actually gain a friend or two.

Dough has something that I didn't have, which is a best boy friend who actually wants to be a boyfriend and of course, there's the whole astrology and dark mysterious could be a potential criminal boy working for her mother at their bakery. Yeah, I get it...that whole, I want to be popular or just know someone who is popular and maybe be accept too because they are.

I predict this book is going to make me cry again.