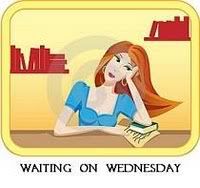 "Waiting On" Wednesday (or ya know WoW!) is a nifty little weekly event, hosted by the ever so lovely Jill at Breaking The Spine that totes puts the spotlight on various new and upcoming book releases that are totally "ohmigod! i gotta have this or i'll just die," eagerly anticipated.

Mercy by Rebecca Lim
b&n // amazon
Publish Date: May 17, 2011
Publisher: Hyperion Books Children
Age Range: Young Adults
Format: Hardcover, pp 288

A fallen angel haunted by her past. Yearning for her immortal beloved. Forever searching for answers. Who will show her Mercy?

Mercy has lost herself. She can't count how many times she's "woken up" in a new body, and assumed a new life, only to move on again and again. During the day she survives in the human world on instinct and at night her dreams are haunted by him. Mercy's heart would know him anywhere. But her memory refuses to cooperate.

But this time is different. When Mercy wakes up she meets Ryan, an eighteen year old reeling from the loss of his twin sister who was kidnapped two years ago. Everyone else has given up hope, but Ryan believes his sister is still alive. Using a power she doesn't fully comprehend, Mercy realizes that Ryan is right. His sister is alive and together they can find her. For the first time since she can remember, Mercy has a purpose; she can help. So she doesn't understand why the man in her dreams cautions her not to interfere. But as Ryan and Mercy come closer to solving the dark mystery of his sister's disappearance, danger looms just one step behind.

Will Mercy be able to harness her true self and extraordinary power in time?

The first in a dazzling new series, Mercy masterfully weaves romance, mystery and the supernatural into a spell-binding tale.

*Taken from Goodreads.
I'm actually reading a digital advanced copy of this book and I'm really enjoying it so far. I'm a little behind on it, due to having to deal with my grandmother's surgery on Monday and making sure she got home and all settled in yesterday, but it's been really good so far. The cover for it (hopefully this is the final draft of it, since the book is coming out next month) is really pretty. I love the angel wings and how she's standing in what almost looks like the center of a soon to be brewing storm, how she's cloaked in darkness, but she still looks vulnerable and so very pretty. Yes, I cannot wait to actually have my own copy of this.