Basically, In My Mailbox or IMM was originally inspired by Althea of Pop Culture Junkie and is now hosted by the lovely Kristi over at The Story Siren where you talk about the awesomely cool books that you received in the mail, via the stacks of your local library, recent purchases, etc.

And the totally fun thing, you don't even have to call it "In My Mailbox," because some people don't even have mailboxes and for me, I usually just carrying a huge over-sized bag with me whenever I go to the library or anywhere really, because I know when I come out I'll have about a stack of eight or more books. So, mine is pretty much, "what's in the bag?"

Any way, click the link above to read all about it. This week for me, I've got tons of goodies to share wth you, in pictures this time. TA DAAAAAAA!!! :D

BORROWED FROM THE LIBRARY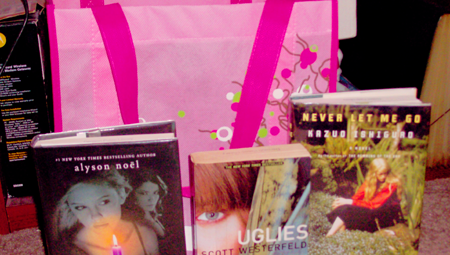 Dark Flame by Alyson Noel
In Alyson Noel's most darkly seductive Immortals novel yet, Ever fights for control of her body, her soul—and the timeless true love she's been chasing for centuries.
The Uglies by Scott Westerfeld
In Scott Westerfeld's dystopian trilogy, Tally is about to turn sixteen and pretty. But along with becoming pretty, she's faced with a choice that could irrevocably alter her life forever.
Never Let Me Go by Kazou Ishiguro
Never Let Me Go is this dark, dystopian tale of three former friends, all alumni of a British boarding school, who unravel a horrifying secret about their alma mater.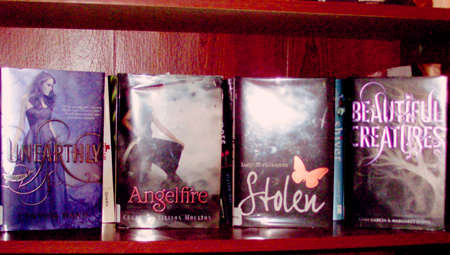 Unearthly by Cynthia Hand
Unearthly is a moving tale of love and fate, and the struggle between following the rules and following your heart.
Angelfire by Courtney Allison Moulton
Seventeen-year-old Ellie must face an army of Bastian's most frightening reapers, prevent the soul reaper from consuming her soul, and uncover the secrets of her past lives - including truths that may be too frightening to remember.
Stolen by Lucy Christopher
Stolen is her gripping story of survival, of how Gemma has to come to terms with her living nightmare - or die trying to fight it.
Beautiful Creatures by Kami Garcia and Margaret Stohl
In a town with no surprises, one secret could change everything.
BOOKS I BOUGHT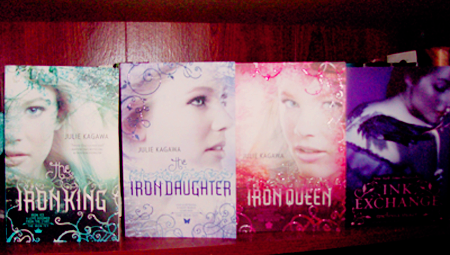 Okay, from left to right I managed to snag all three of the Iron Fey series books by Julie Kagawa and then I decided to go ahead and splurge on the second book in the Wicked Lovely series, Ink Exchange. Few little notes here, I've been trying to read Wicked Lovely for roughly about a year and a half now, maybe longer. I don't know why it's taken me so long, but it has and it's starting to frustrate me. It's not that I don't like the book because I think that Melissa Marr is a wonderful author, but I guess I just have to be in the right mood for it. I'm thinking once I'm able to get through this one, Ink Exchange might be a little easier.

On the flip side, I'm seriously EXCITED GRABBY-HANDS FLAILING over my Iron Fey trilogy find and bargains. I've been dying to read this series for a long time now and they were never really the right price and sometimes I like to wait until there's about two or three books out in the series before I start buying them because I know just from looking at them and reading the summary on the back of the books or inside flaps, I'm totally gonna want to gobbledevourthem all up. This, is true. So, yes...good finds = happy me. :)
The Iron King by Julie Kagawa
Meghan Chase has a secret destiny—one she could never have imagined. She will learn just how far she'll go to save someone she cares about, to stop a mysterious evil no faery creature dare face…and to find love with a young prince who might rather see her dead than let her touch his icy heart.
The Iron Daughter by Julie Kagawa
Meghan's stuck in Faery with only her wits for help. Trusting anyone would be foolish. Trusting a seeming traitor could be deadly.
The Iron Queen by Julie Kagawa
My name is Meghan Chase. This time, there will be no turning back.
Ink Exchange by Melissa Marr
After centuries of stability, the balance among the Faery Courts has altered, and Irial, ruler of the Dark Court, is battling to hold his rebellious and newly vulnerable fey together. If he fails, bloodshed and brutality will follow.
BOOKS I WON + 1 ARC FOR REVIEW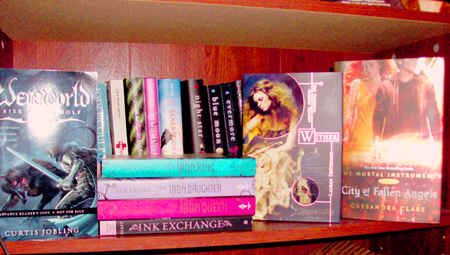 Because, OMFG! AJFDALFJDALKFJDKLFADJFLKADJFKD! Yeah, that was pretty much my reaction when I found that I had won a copy of City of Fallen Angels from the amazingly awesome MINDY @ MAGICAL URBAN FANTASY READS in her awesome giveaway. I truly, I cannot tell you how excited I was when I got the notification in my inbox and then when the book showed up, that poor mailman. I nearly tackled him for it. Oh, yeah! City of Fallen Angels, it's mine bitch. Read it and weep! lol.

Annnd because I'm just that uber cool (did I just say uber?! what's up with that? lol.) I also managed to win a copy of Wither, Lauren de Stefano's debut novel that I've been seeing and hearing LOADS AND LOADS of good things about. So, thank you so very much TISHIA OVER @ THE PARANORMAL OPINION. You are truly A-MAAAAAAAZING! Really, she is and you all should go check her blog out because you'll find lots of cool stuff over there.

The cover, I really feel like I need to talk about the cover for just a minute, so indulge me a little bit. Besides, you know you want to.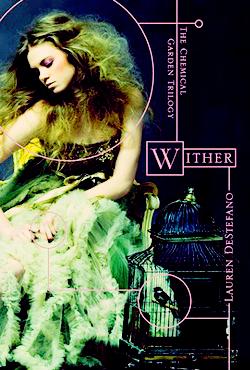 Wither by Lauren De Stefano
b&n
//
amazon
What if you knew exactly when you would die?

Thanks to modern science, every human being has become a ticking genetic time bomb—males only live to age twenty-five, and females only live to age twenty. In this bleak landscape, young girls are kidnapped and forced into polygamous marriages to keep the population from dying out.

When sixteen-year-old Rhine Ellery is taken by the Gatherers to become a bride, she enters a world of wealth and privilege. Despite her husband Linden's genuine love for her, and a tenuous trust among her sister wives, Rhine has one purpose: to escape—to find her twin brother and go home.

But Rhine has more to contend with than losing her freedom. Linden's eccentric father is bent on finding an antidote to the genetic virus that is getting closer to taking his son, even if it means collecting corpses in order to test his experiments. With the help of Gabriel, a servant Rhine is growing dangerously attracted to, Rhine attempts to break free, in the limted time she has left. *Taken from Goodreads
Just look at that cover and how utterly gorgeous it is. (Don't it make you want to buy this book? You know it does.) It makes me all sad and happy at the same time, the girl on the cover is absolutely beautiful in that whole vintage gothic type way and she's incredibly sad. And it's edgey and purple and genitically amazing. And squee, Big Love ain't dead yet. lol. I can still haz my polygamy fix. Yes, I can.

Oh, and that other book you see there, it's a very cool ARC of Curtis Jobling's, Wereworld: Rise of the Wolf that won't be out until September 20, 2011. It totally looks like it's going to be a great read, I've been thumbing through it and kind of marveling like the geek I am at my first physical copy of an ARC. Oh yes, you can believe I'm going to spend time babying this and enjoying the read. I have a couple more on the way to me, since I've been in contact with a couple of different author's who have requested me to read and review their book but I'll post more them when they arrive in my mailbox.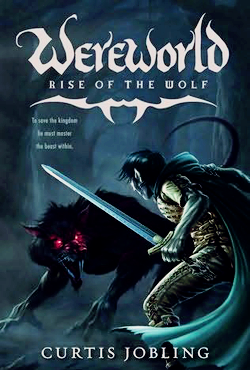 Wereworld: Rise Of The Wolf by Curtis Jobling
b&n //
amazon
'You're the last of the werewolves son. Don't fight it...Conquer it'.

When the air is clear, sixteen year-old Drew Ferran can pick up the scent of a predator. When the moon breaks through the clouds, a terrifying fever grips him. And when a vicious beast invades his home, his gums begin to tear, his fingers become claws, and Drew transforms ...Forced to flee the family he loves, Drew seeks refuge in the most godforsaken parts of Lyssia. But when he is captured by Lord Bergan's men, Drew must prove he is not the enemy. Can Drew battle the werecreatures determined to destroy him - and master the animal within? *Taken from Goodreads.
And that's all I got in my mailbox this past week and a half-ish, what'd you get?! Share your links with me, I wanna know what super cool awesome things you got.

Oh, and little message from the desk of, so to speak. My gran is having surgery (a pacemaker put in actually) on Monday and so I'll probably be gone from the house most of that day - starting pretty early in the morning. So, it might be late in the evening or Tuesday before you really see me post again. I need to be available to help her out and then again, I might pop in with a smallish update on how she's doing just in case there are those of you who might want to know.

Thank you guys for all of the amazing giveaways, the follows, the contests, the book rec's and the reviews - you are all just really amazing and I totally heart you. Like, really I want to draw hearts all around you guys because you're just so cool and so nice and helpful and I cannot believe that I have 91 followers already and my blog is not even a month old as far as book blogging goes. This is just...wow.

Things you should expect within the next couple of months, two different upcoming guest spots from two different author's of a couple books (one that I've already read and review) and another that I will be reading and review, along with possibly a couple giveaways and I'm still trying to decide on what I want to give away for a possible 100 or 125 Follower giveaway. I don't know, what do you guys think? I want to hear from you.

And it just occurred to me, I really need a linky button so you guys can link back to my blog if you want to and show some love. I think I'll work on trying to make one, but I'm shite with graphics so I might need a little help. Anyone out there in book blogland nice enough to want to offer to make me a button. It's just one, I know it's a lot to ask but I would so appreciate it. If not, I'll make one for myself. Heh.