Basically, In My Mailbox or IMM is hosted by the lovely Kristi over at The Story Siren where you talk about the awesomely cool books that you received in the mail, via the stacks of your local library, recent purchases, etc.

And the totally fun thing, you don't even have to call it In My Mailbox because some people don't even have mailboxes. I usually just carry a huge over-sized bag with me whenever I go to the library or out to my local bookstore, because I know when I come out I'll have ton of books and an aching wallet to boot. So, mine is pretty much, "what's in the bag?" And it's usually anyone's guess. lol.

Any way, click the link above to read all about it. This week for me, I've got tons of goodies to share wth you (about three weeks worth of books, so get ready), some in pictures and some not. TA DAAAAAAA!!! :D


A few weeks ago I won a contest that was held by Angie Smibert herself over at the Elevensies community on livejournal. And I won the book Memento Nora, which she autographed and some jelly belly jelly beans that came in a bottle that she had labeled as if it were pills that you were going to take. The whole point of that was to tie it in to the novel, which I thought was kind of an awesome thing to do. I love how the label says in all caps, "TAKE AS NEEDED AFTER BAD DAY."

Sometimes I wish it were that easy to just take a pill and forget all of the bad and get to keep the good. lol. She also sent five signed bookmarks, which I'll probably be using one or two of them in an upcoming giveaway of sorts. I really should have already held one of them, but I was trying to be a little different.
BOUGHT, BORROWED, ARC'S, OR WON
(In no particular order.)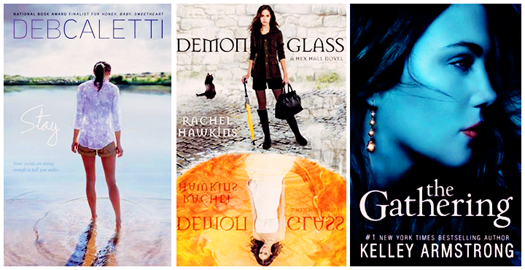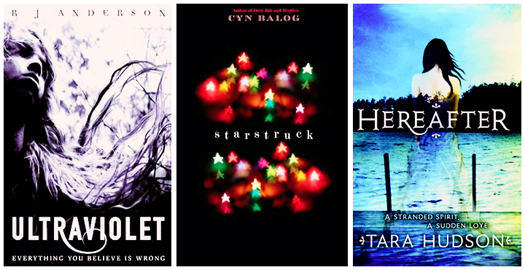 BOUGHT, BORROWED, AND WON
Stay by Deb Caletti
Demonglass by Rachel Hawkins
The Gathering by Kelley Armstrong
(Thanks so much Jenny @ NewBooksForNewBloggers.)
Memento Nora by Angie Smibert
(Thanks so much for the amazing giveaway, Angie.)
Before I Fall by Lauren Oliver
(Thanks so much Molli @ Once Upon A Prolouge for letting me borrow it or well, for doing a sort of book exchange. Let me know how Delirium is, because I haven't read it yet and am dying to.)
ARC'S = ADVANCED READER'S COPIES
Ultraviolet by R.J. Anderson
(Thanks to Carolrhoda Lab a divison of Lerner Publishing Group, and R.J. Anderson.)
Starstruck by Cyn Balog
(Thanks so much, Yara @ OUaT Book ARC Tours. Review coming soon.)
by Tara Hudson
Between Here And Forever by Elizabeth Scott
Forbidden by Tabitha Suzuma
Starcrossed by Josephine Angelini
Spellbound by Cara Lynn Shultz
Thanks to Netgalley, S&S Galleygrab, Harlequinn Teen, Harper Teen, and Simon Pulse
ON LOAN FROM LOCAL LIBRARY
Radiant Shadows
Darkest Mercy
Books 3-5 of Wicked Lovely Series by Melissa Marr
Lock and Key
Along For The Ride
By Sarah Dessen for Sarah Dessen Week
Forgive My Fins by Tera Lynn Childs
Crusade by Nancy Holder
by Daniel Waters
Evernight by Claudia Gray
Dude, that was EPIC! No, seriously. lol. But, in all fairness and honesty, it was about two and a half to three weeks work of IMM. So, yeah it was due time.