This meme is brought to you weekly by MizB over at Should Be Reading.

Anyone can play along, just do the following:

01. Grab your current read and open to a random page
02. Share two (2) "teaser" sentences from somewhere on that page, but BE CAREFUL NOT TO INCLUDE SPOILERS! (Make sure that what you share doesn't give too much away! You don't want to ruin the book for others!)
03. Share the title and the author, too, so other TT participants can add the book to their TBR List if they like your teaser!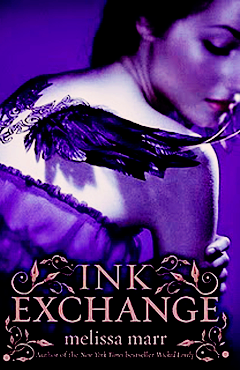 Ink Exchange
By Melissa Marr
b&n
//
amazon
I need to find Leslie. My Leslie, my mercy, my strength, my Shadow Girl...mine. (pp 208)

Seventeen-year-old Leslie knows nothing of feaeries or their shadowy power struggles. When she is attracted to an eerily beautiful tattoo, all she knows is that she has to have it, convinced it is a tangible symbol of changes she desperately craves for her own life.

The tattoo does bring changes--not the kind that Leslie has dreamed of, but sinister, compelling changes that bind Leslie to Irial, a dark and dangerous faery king fighting for the soul of his court. Slowly, Leslie is drawn deeper and deeper into the faery world, unable to resist its allures, and helpless to withstand its perils...

Melissa Marr continues her tales of Faerie in the dark, ravishing story of temptation and consequences, and of heriosm least expected.
I'm almost halfway through this book and already I am addicted to this series, which is surprising since it took me so long to read the first book Wicked Lovely. I am seriously drawn to Irial, he's this dark mysterious complicated character with so much depth and layers. I love his drunken addiction, his strange and compelling, dangerously alluring connection with Leslie. My head knows that Leslie and Nial are the two that we, as the reader's, are supposed to be rooting for. My heart, that's another matter all together, for it lies with Irial and Leslie and their connection. It lies with the darker fey king that is trying to feed its Court's soul, so they can sustain life and continue to live whilst not fading and dying and becoming weak. He's some humanity, which he would scoff at himself, left inside of him. There's some strange love that he has for Leslie and it's pure and I have this feeling that they will be spectacularly achey all over and I cannot wait to see what comes next.