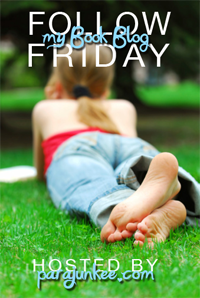 Happy Follow Me Friday, everyone! The long and short of it, life is crazy and reading is my life, basically. So, yeah this feature is awesomesauce.

Go here, to get the deets on it and start having some fun. It's all about meeting some new people, finding new blogs to follow, and basically just having fun with awesome people.



She featured the awesome Louise from Book Bliss this week. If you guys haven't checked out her blog yet, well then what are you waiting for. Go show her some blogger love, she's epicly fierce from what I hear and super cool, too.




Hi! My name's Louise and I'm the blogger behind BookBliss. I've always had a love of reading, when I was at primary school they actually ran out of books for me to read, as did my local library, I had to travel into town to the 'big' library in order to get books. Due to my love of reading I studied literature at university and hated it, although I enjoyed a lot of the books, I don't like reading because I have to and I don't like the in depth dissection of the books. I prefer to read a book to enjoy it and then be able to say what I liked about it without having to do an in-depth analysis.

When moving house recently my friend was amazed at how many books I had (a double book case full), I thought this was quite normal and that everyone would have bookcases full of books, apparently it's not. Around the same time I got asked to join Amazon Vine where in exchange for reviews you get certain products provided, they're primarily ARC's so I was made up, when I googled a lot of the books to see what people thought of them I discovered this whole book blogging world, I'm a top 1000 reviewer on Amazon but it had never occurred to me that I could do a blog as well.

And the rest of the story.
THE QUESTION OF THE WEEK
"How many books do you read in a week? And in what format do you read them, or listen to them?"
Usually, I try to read at least two books a week, if I'm able to swing it. I know that doesn't sound like much when so many of the rest of you guys are reading feinds and you read quick like Forrest runs, but sometimes it's a little harder on me when I have to help my gran out with doctor appointments and other things and/or I'm doing something with my mom. Lately, I've been pretty good at getting two books in, one week I even managed to get three. I'm usually reading a library book, a book I bought, and a digital/physical ARC a week. I read on them at various times and have been able to keep up pretty good.

I'm not the craziest about aduiobooks, becuase they're never as much fun as the actual book to read itself, but sometimes if that's the only format of it I can find then that's what I'll settle for provided I really want to actually read the book that badly to listen to it. I prefer physical copies of books to digital, since the digital ones I have to read on my computer with a Adobe Digital Editions or a program similar to that. I don't own a Nook or any type of e-reader, but I'm seriously thinking about investing in one for sure at some point.

So, that's my reading habits, tell me yours.
Brought to you by the ever awesome and fiercely amazing CRAZY FOR BOOKS. Want to make a connection with a fellow blogger? Feel the need for a few new followers? Or you just want to spread some blogger spirit and love? Well, this is totally the "blogger hop" for you and you can find out how to do all that HERE.

THE QUESTION OF THE WEEK
"What book-to-movie adaption have you most liked? Which have you disliked?"
Okay, so I'm going old-school with this and I'm going to start with Gone With The Wind, because I absolutely LOVED that book to the point of wanting to draw hearts around it, and the movie absolutely DID NOT disappoint in any way. From the casting of the character's, to the story that was told, to the costumes and the setting design. Everything about this movie was so very true to the books and I'm choosing to ignore the horrible made for television debacle that was Scarlett because just...A WORLD OF NO! The Lovely Bones was another one that I was absoutely pleased with as well. I have to admit though, at first I was a little leary of it and whether or not it would be adapted well to screen, but the cast that was chosen were a fantastic fit for their character's and the in-between was very beautifully done. It truly captured the essence of the book and what the real story being told was. And I can't not mention Harry Potter, because I've fallen in love with those movies terribly so. I realize that a lot of the things they did in the movies weren't on par with what necessarily happened in the books, but I'm choosing to look at the movies separately from the books in this case because I've fallen in love with the character's, their stories they've had to tell, the actors chosen to place these lovely character's, and the whole world itself that J.K. Rowling created. In a word that can only sum it up best, EPIC!

As far as my dislikes, I have to say that as much as I loved and adored the book The Time Traveler's Wife, I wasn't as pleased with the movie as I would have liked to have been. This is such a tender and beautiful story that was being told and I wondered just how well they would be able to adapt it to film, without losing some of the elements in translation. In short, I feel like they could have cast the role of Clare better than they did, there were a couple of things they left out that I would have loved to have seen more, and then there were a couple of things that felt like there wasn't much of a shift in balance that were included as well that could have been done without.

And then I think that most everyone would probably cite Twilight as a virtual debacle in itself. I mean, the movies that followed it were so much better, but the casting of Rosalie and Esme I just can't seem to get over. Nor can I get over the fact that some of the lines were changed, as well as some of the scenes that happened a certain in the book, was placed differently in the movie. Not to mention, the bite mark that James gave Bella, and the ending with the killing of James and who done it. Come on people, you just don't mess with a major plot element like that, okay. Sure I get changing a few things up here and there, but changing too much up and not including key elements and including other small things that could have been left out, well that's not cool in my book okay.