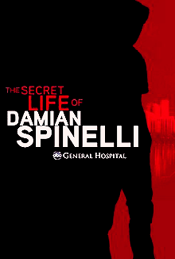 The Secret Life of Damian Spinelli
By Carolyn Hennesey
Publisher: Hyperion
Publish Date: April 05, 2011
Book Format: Hardback, pp 256
Age Demographic: Adult; but Young Adult friendly
b&n // amazon
Brusque Lady . . .

Please meet the Jackal at the bar in the Metro Court at 10:00 PM sharp. Although it is somewhat past my his bedtime, he must speak with you on a grave matter concerning many of your clientele. Do not fail me him.

Regards, The Jackal

So begins an evening unlike any other in Port Charles. When high-powered attorney Diane Miller agrees to meet with computer hacker extraordinaire Damian Spinelli, otherwise known as The Jackal, she knows she's in for an interesting night. But the stories he has to tell about some of Port Charles's most famous, and infamous, inhabitants are beyond her wildest imagination. Could these tales possibly be true? Or is Spinelli using her for some other purpose?

From the deck of the Smilin' Lila to the halls of General Hospital, from the Case of the Vamping Valkyrie to the Case of the Contrived Contralto, here are Spinelli's tales of intrigue, kidnapping, murder, and more. The office of Spinelli/McCall, P.I., has never been busier.

Spinelli may be a gumshoe like no other, but he will save, defend, and protect the citizens of Port Charles until the bitter end!
❝My Thoughts❞
If you enjoy the daytime soap opera General Hospital, then you will for sure enjoy this book. It is hilarious, it is over-the-top, super geektastic as only one Damien Spinelli can be. The stories are embellished a great deal, the character's are engaging and likeable even when they're not trying to be, and Diane Miller is one hell of an amazing attorney.

I have loved Spinelli from the moment he graced my screen in 2006 and I continue to still love him today, all of his techo-babble, his serious geek status...he is simply put, a rockstar in his own way. Not to mention, I love the fact that he would move heaven and hell to the point of risking his own life to save the people that he cares about the most. That is who Spinelli is and that is how he's won the hearts of so many.

Watching him fall in love and embark on a relationship with Maxie, was truly an honor. The way he's so undeniably loyal to Jason "Stone Cold" and is such a wonderful endearing albiet sometimes annoying friend to Sam, and yes even his love for the Valkryie whom I personally detest; encompasses all of the reasons for which I love him.

What the actors brings to these two characters, Spinelli and Diane Miller every day, is truly spectacularly phenomenal. Run, do not walk, to your nearest book store and get your own copy of this book and devour it in one sitting like I did. You will not be disappointed. You will laugh all of the way through it, I did.