Third Sentence Thursday is a nifty little weekly meme hosted by Sniffly Kitty's Mostly Books.

1) Take the book you are reading now and post the third sentence
2) Review this sentence anyway you want (funny and silly reviews encouraged)
3) Post a link to your sentence here or if you don't have a blog, just post it in the comments!

My Third Sentence Thursday comes from Lauren Destefano's debut novel, Wither. Thanks to Jenny over at New Books For New Bloggers. So far, I'm really enjoying it, and I can't wait for the next book in the seriesFever to be out in early 2012.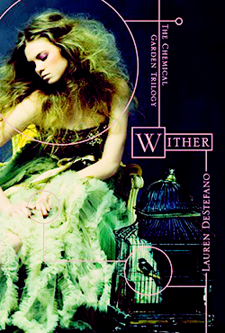 Wither
By Lauren Destefano
b&n
//
amazon
Published Date:
March 22, 2011
Publisher:
S&S Children's Publishing
Book Format:
Hardback; pp 368
Age Demographic:
Young Adult
"We sleep huddled together like rats, staring out, and dream of our bodies swaying." (pp 01)

What if you knew exactly when you would die?

Thanks to modern science, every human being has become a ticking genetic time bomb—males only live to age twenty-five, and females only live to age twenty. In this bleak landscape, young girls are kidnapped and forced into polygamous marriages to keep the population from dying out.

When sixteen-year-old Rhine Ellery is taken by the Gatherers to become a bride, she enters a world of wealth and privilege. Despite her husband Linden's genuine love for her, and a tenuous trust among her sister wives, Rhine has one purpose: to escape—to find her twin brother and go home.

But Rhine has more to contend with than losing her freedom. Linden's eccentric father is bent on finding an antidote to the genetic virus that is getting closer to taking his son, even if it means collecting corpses in order to test his experiments. With the help of Gabriel, a servant Rhine is growing dangerously attracted to, Rhine attempts to break free, in the limited time she has left.

*Summary taken from Goodreads.
WATCH THE TRAILER HERE