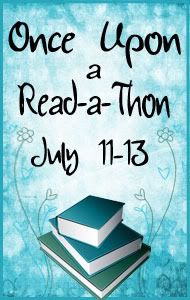 This post is to announce to the world that I'm participating in the Once Upon A Read-A-Thon hosted by Lori of Pure Imagination and Candace of Candace's Book Blog!

This read-a-thon is going to be so great! It's three days where you try do NOTHING but read. It's a great chance to get rid of some of those books that have been sitting on your TBR pile forever.

But that's not all! There will also be awesome mini-challenges and a some giveaway's, of course! Thing is you are only eligible if you do at least one update post and participate in at least one challenge! SO GO SIGN UP!

Here's my goal:

I plan to participate on: ALL DAYS
I plan to read: 3 books
I hope to read: Tris & Izzie, Putting Makeup On Dead People, and Dreamland

Well, have you signed up yet? DO IT NOW!