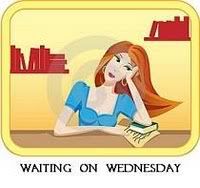 "Waiting On" Wednesday (or ya know WoW!) is a nifty little weekly event, hosted by the ever so lovely Jill at Breaking The Spine that puts the spotlight on various new and upcoming book releases that have become the"ohmigod! i gotta have this or i'll just die," eagerly anticipated novels to adorn your shelves.

This week, I've chosen the next book in Lauren DeStefano's The Chemical Garden Trilogy, Fever. I know this book is going to be freaking amazing and I cannot wait to read it. I LOVED THE FIRST BOOK. The review for it, will be coming within the next couple of weeks. I've somehow gotten behind a little bit and I'm trying to catch up, at the moment.

Also, don't forget to enter my GIVEAWAY for an ARC of Carrie Jones, After Obsession. It's a fantastic read and I know that if you liked her Need series, you will absolutely LOVE this book as well. It's totally a gem.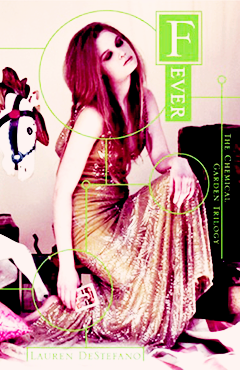 Fever
By Lauren DeStefano
Publisher: Simon&Schuster Books for Young Readers
Publish Date: February 21, 2012
Format: Hardback, pp 352
Age Demographic: Young Adult
b&n // amazon

Rhine and Gabriel have escaped the mansion, but danger is never far behind.

Running away brings Rhine and Gabriel right into a trap, in the form of a twisted carnival whose ringmistress keeps watch over a menagerie of girls. Just as Rhine uncovers what plans await her, her fortune turns again. With Gabriel at her side, Rhine travels through an environment as grim as the one she left a year ago - surroundings that mirror her own feelings of fear and hopelessness.

The two are determined to get to Manhattan, to relative safety with Rhine's twin brother, Rowan. But the road there is long and perilous - and in a world where young women only live to age twenty and young men die at twenty-five, time is precious. Worse still, they can't seem to elude Rhine's father-in-law, Vaughn, who is determined to bring Rhine back to the mansion...by any means necessary.

In the sequel to Lauren DeStefano's harrowing Wither, Rhine must decide if freedom is worth the price - now that she has more to lose than ever.

Okay, I just have to say that I love books that deal with polygamy, because I love learning everything I can from a completely curious perspective about it, the history of, and just Mormanism in general. I was HIGHLY ADDICTED to the show Big Love when it was on air and I've watched as many movies and read as many books as I can get my hands on, regarding polygamy. The first novel, Wither, was utterly astounding and I know this follow-up novel is going to be simply fantastic.

*Summary taken from Goodreads.