This meme is brought to you weekly by MizB over at Should Be Reading.

Anyone can play along, just do the following:

01. Grab your current read and open to a random page
02. Share two (2) "teaser" sentences from somewhere on that page, but BE CAREFUL NOT TO INCLUDE SPOILERS! (Make sure that what you share doesn't give too much away! You don't want to ruin the book for others!)
03. Share the title and the author, too, so other TT participants can add the book to their TBR List if they like your teaser!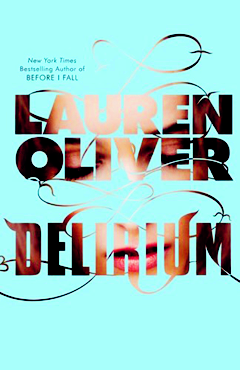 Delirium
By Lauren Oliver
Publisher: HarperCollins
Publish Date: February 1, 2011
Format: Hardback, pp 448
Age Demographic: Young Adult
b&n // amazon

"I'll tell you another secret, this one for your own good. You may think the past has something to tell you. You may think you should listen, should strain to make out its whispers, should bend over backward, stoop down low to hear its voice breathed up from the ground, from the dead places. You may think there's something in it for you, something to understand or make sense of.

But I know the truth: I know from the nights of Coldness. I know the past will drag you backward and down, have you snatching at whispers of wind and the gibberish of trees rubbing together, trying to deciper some code, trying to piece together what was broken. It's hopeless. The past is nothing but a weight. It will build inside of you like a stone.

Take it from me: If you hear that speaking to you, feel it tugging at your back and running its fingers up your spine, the best thing to do--the only thing--is run." (pp 176)

Ninety-five days, and then I'll be safe. I wonder whether the procedure will hurt. I want to get it over with. It's hard to be patient. It's hard not to be afraid while I'm still uncured, though so far the deliria hasn't touched me yet. Still, I worry. They say that in the old days, love drove people to madness. The deadliest of all deadly things: It kills you both when you have it and when you don't.

In Lauren Oliver s stunning second novel, love has been declared a dangerous disease, and the government forces everyone who reaches eighteen to have a procedure called the cure. Lena Haloway is very much looking forward to being cured and living a safe, predictable life. But then she meets enigmatic Alex, who lives under the government s radar. What will happen if they do the unthinkable and fall in love?

Lauren Oliver follows up her incandescent debut, the New York Times bestseller Before I Fall, with this extraordinary novel about a high-stakes romance set in a dystopian United States. Delirium presents a world as terrifying as The Hunger Games and a romance as true as Romeo and Juliet.

*Summary taken from Goodreads.
I have never in my life been so wrapped up inside the pages of a book, as I find myself wrapped up in this one. It's like a warm blanket on a cold Feburary morning, a long hot sip of spice tea, and a feeling of hope burning alive long after the fire has been put out. It's simply irresistable and beautiful, how it evelopes you, how it enfolds you in the slow ache, absorbing the fear, and encourages you to take the first steps in making your own choice instead of falling into steps blindly along side the masses. It's clear and crisp and dares you to believe in something so perposterous that it seems almost wreckless in the most disturbing, yet amazing way possible. It is something that will change your life -- forever.

It is ... amor deliria nervosa.