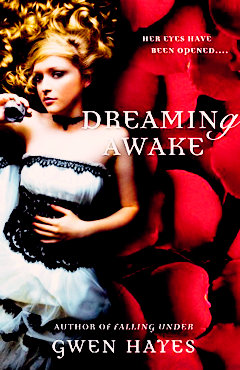 Dreaming Awake
By Gwen Hayes
Publisher: Penguin Group (USA)
Publish Date: January 3, 2012
Format: Paperback, pp 336
Age Demographic: Young Adult
b&n // amazon

"Love had seduced my heart and soul, changed me forever, and then, in one promise made under duress, jeopardized my humanity. And yet I couldn't regret it." (pp ;; 01)

She fell for him in a nighttime world. But the time for dreaming is past—and the here-and-now can be just as fragile their love…

When Theia Alderson first encountered a mysterious, handsome boy in her dreams, she never imagined how finding Haden Black—and falling in love—could change her life. To save Haden, Theia sacrificed everything. And the dangerous bargain she made could have lasting repercussions.

Now Theia has returned to Serendipity Falls, and she finds herself struggling with the same deadly hungers that have tortured Haden. When students at their high school fall prey to a mysterious illness, Theia can't help but wonder if Haden's control is slipping—and how much longer she'll have a grip on her own.

And still the nightmare realm of Under won't let them go. Someone from Haden's past is determined to destroy Theia from the inside out, starting with those closest to her, forcing Theia to choose between family and friends and a love that may have been doomed from the start…

*Summary taken from Goodreads.
❝My Thoughts❞
Dreaming Awake is a powerfully written, emotionally gripping story that hooks you and keeps you there as the rest of the story unfolds. It's beautifully written, almost lyrical in a sense, and the imagery is quite powerful and heartwrenching. This is the second installment in this gripping trilogy, filled with romance, betrayal, friendship, and heartache. The pace picks up a great deal and there is quite a bit of action, the character's are amazingly written and utilized in the best possible way. This time around, Theia struggles with the fact that the deal she made with Mara may just be her own un-doing in a sense.

I'm not usually one for straight up love stories, so I was happy that there was a bit more action and point to the storytelling and a little less focus on the romance, as beautifully written as it was. With a bit of Mara's blood rushing through her veins, Theia is finding that there's power in it, and has come to the startling realization that she has this urge she never possessed before to feed on souls, which throws a couple of monkey wrenches into the story later on. Theia doesn't realize until it's pointed out to her later, that she's actually been drawing on this power. It was nice to see that her character development progressed in this book, that she became stronger and was able to overcome some of the obstacles thrown in her direction. The bond of friendship Theia shared with Ame and Donny, was definitely one of the best things about this novel. They were willing to go above and beyond, to ensure their friend's safety no matter what.

Hayes world-building and masterfully written imagery of the Under are grotesquely mesmorizing and will pull you into the story right along with the terrifying character's that are basically walking nightmares. There are walking skeletons and one of the most imaginative yet disturbing things I've read about to date, sewn together handmaidens. The way these handmaidens are described, will give you chills. It's such a distorted vision filled with dark magic, intense vulnerability, and terrifying fears that may or may not come to pass. Not since this series, have I seen Under depicted in such a way that it left me visibly shaking while reading. And the cliffhanger that it leaves you with, will drop your jaw.

This is definitely a book that you will want to read.

{ This ARC was provided by ATW ARC Tours, in exchange for an honest review which I have provided. No money exchanged hands, I review books for fun because I love to read. I am not interested in monetary gain. Any piece of this ARC that was/wasn't quoted, is not part of the finished product and should not be perceived as such.}