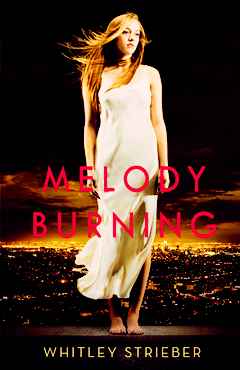 Melody Burning
By Whitely Strieber
Publisher: Henry Holt and Co.
Publish Date: December 6, 2011
Format: Hardback, pp 224
Age Demographic: Young Adult
b&n // amazon

Beresford doesn't remember much about his past or how he came to live in the chutes and crawl spaces of the posh high-rise that shares his name. But when rock star and teen sensation Melody McGrath moves to an apartment on the fiftieth floor, he knows he has to be near her.

Although she doesn't realize it, Melody is threatened by more dangerous forces than her manipulative stage mom and the pressures of life in the spotlight. The owner of the glamorous building has been hiding a fatal secret within its walls, and Beresford puts all his plans at risk. Will Beresford and Melody be able to escape with their lives (and love) intact?

*Summary taken from Goodreads.
A review for this book will be forthcoming in the next couple of weeks, I just had to spotlight this one, because it looks like it's going to be a fantastic book and I received my ARC in the mail over the weekend. If you've already read it, comment and let me know what you thought about it.