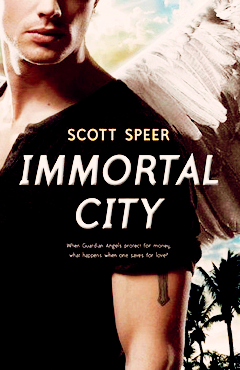 Immortal City
By Scott Speer
Publisher: Razorbill
Publish Date: April 3, 2012
Format: Hardback, pp 368
Age Demographic: Young Adult
b&n // amazon

Jackson Godspeed is the hottest young Angel in a city filled with them. He's days away from becoming a full Guardian, and people around the world are already competing for the chance to be watched over by him. Everyone's obsessed with the Angels and the lucky people they protect - everyone except for Madison Montgomery.

Maddy's the one girl in Angel City who doesn't breathlessly follow the Angels on TV and gossip blogs. When she meets Jackson, she doesn't recognize him. But Jackson is instantly captivated by her, and against all odds the two fall in love.

Maddy is swiftly caught up in Jackson's scene, a world of glamour, paparazzi - and murder. A serial killer is on the loose, leaving dead Angels' wings for the police to find on the Walk of Fame. Even the Guardians are powerless to protect themselves in the face of this threat … and this time it's up to Maddy to save Jackson.

*Summary taken from Goodreads.
❝My Thoughts❞
Immortal City is a good book to start with, for someone who doesn't normally read books about angels. It's interesting and cleverly written, fast-paced, and will keep you turning the pages. I personally enjoyed, the serial angel killer and the mystery that wrapped itself around the story in general. It made for quite an entertaining read that definitely had me captivated and curious to find out more. This book is a great start to a wonderful series that I'm sure will get better with each book.

The chemistry that Maddy and Jackson share was definitely a highight for me, while reading this book. I really enjoyed the cat and mouse chase, the more Jackson wanted to be with her the more she gave him chase. But, by the end of the book, she does come around a bit and you can see that they are pretty much meant to be. Sometimes something as simple as what these two discovered, can be a good thing. Normally I enjoy the complexity of relationships such as these, but every once in a while it's refreshing to see the simpler side of things play out.

And, as with any book, there were a couple of con's for me, just a couple of things that sort of mildly frustrated with me.

For instance, in some parts, the book does end up feeling a bit choppy because the point of view switches without giving you any indication that it's going to happen. I found that to be mildly frustrating, personally. It would have been nice to have seen a little more character development or interaction between them, than what we was given. For instance, it would have been nice to have seen Maddy be a little bit more secure in who she was, rather than coming off as shy and insecure as she did.

Over-all, I feel as if Speer was able to accomplish telling the story that he wanted to, and I wouldn't mind reading more about the world of angel's that he's created. I found them to be a bit creative and interesting. The mystery of the killer was certainly illusive and quite compelling as well and I would definitely recommend this book to anyone who enjoys a well written mystery.

{ This ARC was provided by ATW ARC Tours, in exchange for an honest review which I have provided. No money exchanged hands, I review books for fun because I love to read. I am not interested in monetary gain. Any piece of this ARC that was/wasn't quoted, is not part of the finished product and should not be perceived as such.}