Over the past few weeks, my friend Molli @ Once Upon A Prolouge and I have been discussing author's who have changed the way that the we read books forever, those that have left their everlasting mark on us and have made us want to read more and/or have defined the way in which we choose what we are willing to read and what we aren't. This conversation sparked something inside of me and got me to thinking, how awesome it could be if group of us as bloggers got together and wrote "guest posts" on our favorite young adult author's or those who have inspired us or changed the way we read books.

So, it got me to thinking, why don't I host an event where I feature various fellow bloggers thoughts on their favorite young adult author's shining the spotlight on them and creating buzz about their blogs and so many wonderful author's books all at the same time? I did, and the more my fellow bloggers got involved in this poject, the more I got to really thinking about which author I was going to be writing about. Believe me, that was a hard list to cull back, because there were SO MANY author's I wanted to talk about. In the end, one really did shine through, and I hope you guys enjoy my post on her as much as I did writing it.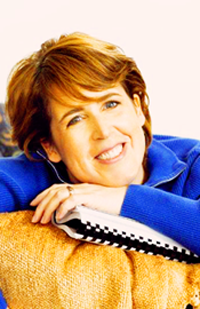 Kelley's Website | Kelley's Twitter Kelley's Facebook | Kelley's Goodreads
Bio, as taken from Goodreads:

Kelley Armstrong has been telling stories since before she could write. Her earliest written efforts were disastrous. If asked for a story about girls and dolls, hers would invariably feature undead girls and evil dolls, much to her teachers' dismay. All efforts to make her produce "normal" stories failed. Today, she continues to spin tales of ghosts and demons and werewolves, while safely locked away in her basement writing dungeon. She's the author of the NYT-bestselling "Women of the Otherworld" paranormal suspense series and "Darkest Powers" young adult urban fantasy trilogy, as well as the Nadia Stafford crime series. Armstrong lives in southwestern Ontario with her husband, kids and far too many pets.
❝YA Author's Appreciation❞

Kelley Armstrong
© Suz @ A Soul Unsung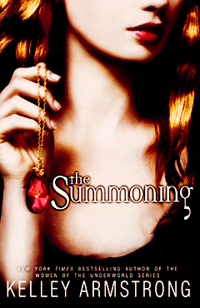 I discovered Kelley Armstrong back in July of 2008 shortly after the first book in her young adult series came out, The Summoning. It was sitting on a table in the center aisle of my local bookstore amongst several other young adult books and I noticed it had a stunning cover that was eye-catching enough for me to pick it up and actually see what it was about. Little did I know that from that particular moment on, I would fall even more in love with her wonderful world of character's and unique way of telling a story so captivating that you wouldn't be able to put her books down until the last page had been read. I bought that book on the spot, took it home, and pretty much devoured it in one sitting and then ran to the computer to look up all the information I could find on when the next book in The Darkest Powers series would be out. I absolutely could not wait to read the next book and any other's that may be released as part of this series.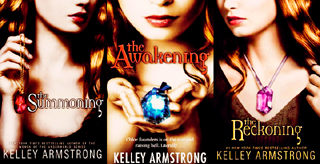 To my surprise, I found a whole world of books that she had written prior to The Darkest Powers trilogy. To say that I was pretty much both surprised and amazed, would be a huge understatement. I was equal parts curious and elated to find these books. They were, of course, adult books but I didn't care because they were written by Kelley Armstrong and I knew without a doubt that they would be just as super fantastic as her previous books I've read. I haven't gotten to read any of these books yet, but I have a goal to read them all or at least start reading her Otherworld series. I actually have a copy of her Men of the Otherworld book sitting on my bookshelf waiting to be read, I found on sale at the bookstore for a steal. My local library has all or most of these books the last time I checked, so it's a pretty good bet that I'll definitely be checking them out and devouring them the way I've enjoyed her other books.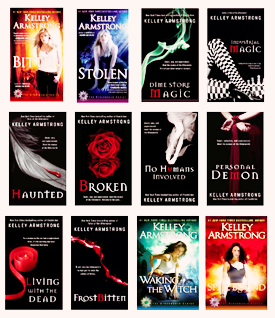 She is such a fun author to read. I have fallen in love with the otherly worlds that she has created and the amazing memorable character's, that she has introduced me to with her books. She creates these wonderful mystical otherworlds, that are deeply compelling and equal parts engaging and captivating. They're just so incredibly unique and mesmorizing and it's so easy to become entranced in them. They will definitely stay with you, long after you've read her books. She's also introduced me to other author's who write similar books in the same genre's as her, like Kim Harrison, Richelle Mead, Rachel Vincent, Sherrilyn Kenyon, and many other's who also write both young adult and adult fiction.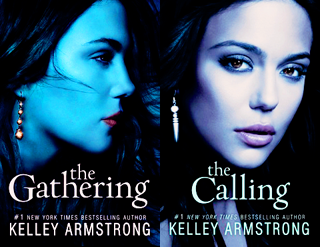 I have only read her Darkest Powers series, but I have a copy of The Gathering sitting on my shelf just waiting to be read. It's the spin-off series that I've heard many wonderful things about and I'm just as excited to dig into it. I can't wait for the second book in that series, The Calling to come out. Her books made me want to get back into reading a lot more young adult paranormal books than I had been reading, because they were written so differently and they didn't feel as if they were the same story told nine different ways with forty-six different scenarios that could possibly play out. Plus, they're cleverly written in such a way that there is a balance, which is important when it comes to a book that I want to read. To this day, she is definitely at the top of my list of favorite author's when it comes to anything that she's written, it doesn't matter what it is or who she's pairing up with to write it - I will read it all and enjoy every bit of it. Her books can be purchased at some of the places below, as I suggest you check them out.
Amazon
|
Barnes&Noble
|
BooksAMillion