This meme is brought to you weekly by MizB over at Should Be Reading.

Anyone can play along, just do the following:

01. Grab your current read and open to a random page
02. Share two (2) "teaser" sentences from somewhere on that page, but BE CAREFUL NOT TO INCLUDE SPOILERS! (Make sure that what you share doesn't give too much away! You don't want to ruin the book for others!)
03. Share the title and the author, too, so other TT participants can add the book to their TBR List if they like your teaser!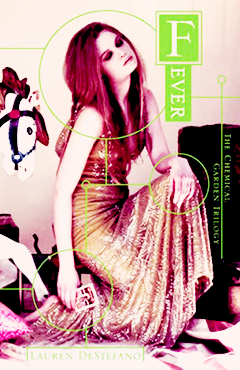 Fever
By Lauren deStefano
Publisher: Simon&Schuster
Publish Date: February 21, 2012
Format: Hardback, pp 352
Age Demographic: Young Adult
b&n // amazon

"Our footprints emerge from the ocean, like ghosts are roaming the beach. I like that. We are the ghosts of sunken countries. We were once explorers when the world was full, in a past life, and now we're back from the dead." (pp's 1 & 2)

Rhine and Gabriel have escaped the mansion, but danger is never far behind.

Running away brings Rhine and Gabriel right into a trap, in the form of a twisted carnival whose ringmistress keeps watch over a menagerie of girls. Just as Rhine uncovers what plans await her, her fortune turns again. With Gabriel at her side, Rhine travels through an environment as grim as the one she left a year ago - surroundings that mirror her own feelings of fear and hopelessness.

The two are determined to get to Manhattan, to relative safety with Rhine's twin brother, Rowan. But the road there is long and perilous - and in a world where young women only live to age twenty and young men die at twenty-five, time is precious. Worse still, they can't seem to elude Rhine's father-in-law, Vaughn, who is determined to bring Rhine back to the mansion...by any means necessary.

In the sequel to Lauren DeStefano's harrowing Wither, Rhine must decide if freedom is worth the price - now that she has more to lose than ever.

*Summary taken from Goodreads.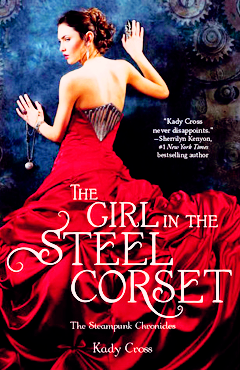 The Girl In The Steel Corset
By Kady Cross
Publisher: Harlequin
Publish Date: May 24, 2011
Format: Hardback, pp 480
Age Demographic: Young Adult
b&n // amazon

"What had happened to make him so angry? And just how strong was he that he could make a house this size tremble by slamming a door? She wouldn't stand a chance against him, even if her darker self took over." (623 of 4872 ;; 12%)

In 1897 England, sixteen-year-old Finley Jayne has no one except the "thing" inside her.

When a young lord tries to take advantage of Finley, she fights back. And wins. But no normal Victorian girl has a darker side that makes her capable of knocking out a full-grown man with one punch...

Only Griffin King sees the magical darkness inside her that says she's special, says she's one of them. The orphaned duke takes her in from the gaslit streets against the wishes of his band of misfits. Emily, who has her own special abilities and an unrequited love for Sam, who is part robot; and Jasper, an American cowboy with a shadowy secret.

Griffin's investigating a criminal called The Machinist, the mastermind behind several recent crimes by automatons. Finley thinks she can help-and finally be a part of something, finally fit in.

But The Machinist wants to tear Griff's little company of strays apart, and it isn't long before trust is tested on all sides. At least Finley knows whose side she's on, even if it seems no one believes her.

*Summary taken from Goodreads.
I am IN LOVE with both of these wonderful books. I'm extremely excited to be reading an ARC of Fever and have been reading The Girl In The Steel Corset on Penelope my brand new shiny Kindle Fire that I got for Christmas, which I love to death. They're both so different from the other, yet so very intriguing and I cannot wait to wax poetic about them both in up-coming reviews.