This meme is brought to you weekly by MizB over at Should Be Reading.

Anyone can play along, just do the following:

01. Grab your current read and open to a random page
02. Share two (2) "teaser" sentences from somewhere on that page, but BE CAREFUL NOT TO INCLUDE SPOILERS! (Make sure that what you share doesn't give too much away! You don't want to ruin the book for others!)
03. Share the title and the author, too, so other TT participants can add the book to their TBR List if they like your teaser!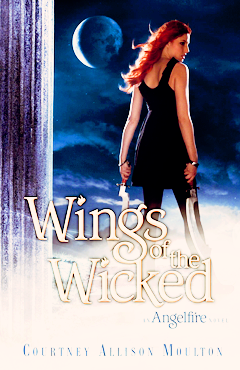 Wings of the Wicked
By Courtney Allison Moulton
Publisher: Katherine Teagan Books
Publish Date: January 31, 2012
Format: Hardback, pp 528
Age Demographic: Young Adult
b&n // amazon

"It was strange how things came back to me the way they did. Memories washed through me, warm like hot chocolate and just as sweet. Marcus was my friend. We'd fought side by side for over a century, gotten ourselves in and out of trouble, laughed at each other's jokes...Looking into his face gave me a sense of familiarity like when Nathaniel smiled at me in that silly way of his. There was no threat here, and I let my swords disappear.

Hi, Marcus." (pp ;; 13)

Life as the Preliator is harder than Ellie ever imagined.
Balancing real life with the responsibility of being Heaven's warrior is a challenge for Ellie. Her relationship with Will has become all business, though they both long for each other. And now that the secret of who she really is has come out, so have Hell's strongest reapers. Grown bold and more vicious, the demonic threaten her in the light of day and stalk her in the night.

She's been warned.
Cadan, a demonic reaper, comes to her with information about Bastian's new plan to destroy Ellie's soul and use an ancient relic to wake all the souls of the damned and unleash them upon humanity. As she fights to stay ahead of Bastian's schemes , the revelations about those closest to her awaken a dark power within Ellie that threatens to destroy everything—including herself.

She'll be betrayed.
Treachery comes even from those whom she loves, and Ellie is broken by the deaths of those who stood beside her in this Heavenly war. Still, she must find a way to save the world, herself, and her love for Will. If she fails, there will be hell to pay.

*Summary taken from Goodreads.
I'm a lot further into this book than page 13, but I really liked that quote and so, I decided to use it. I LOVE THIS BOOK. Really, I love this brilliantly written, super exciting, action-packed, Buffy-like trilogy and I cannot wait to see what happens at the end of this truly captivating novel. It is truly a MUST READ for anyone who loves paranormal romance novels in the ya genre. I cannot sing praises enough, it is just that good.
{Small Note: This book was received from ATW ARC Tours, in exchange for an honest review which I will provide in a timely manner. No money exchanged hands, I review books for fun because I love to read. I am not interested in monetary gain.

The review will be coming shortly, any quotes or references may be subject to change once the novel is finalized and released.}