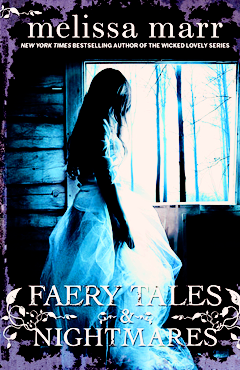 Faery Tales & Nightmares
By Melissa Marr
Publisher: HarperCollins
Publish Date: February 21, 2012
Format: Hardback, pp 432
Age Demographic: Young Adult
b&n // amazon

Dangerous promises and beguiling threats swirl together in a dozen stories of enchantments dark and light by New York Times bestselling author Melissa Marr. Uncanny and unexpected creatures appear from behind bushes, rise from beneath the seas, or manifest from seasonal storms to pursue the objects of their attention—with amorous or sinister intent—relentlessly.

From the gentle tones of a storyteller's cadences to the terror of a blood sacrifice, tales of favorite characters from Marr's Wicked Lovely novels mix with accounts of new characters for readers to fall in love with...or to fear.

Lush, seductive, and chilling, Melissa Marr's stories revel in the unseen magic that infuses the world as we know it.

*Summary taken from Goodreads.
❝My Thoughts❞
Faery Tales and Nightmares is an anthology of short stories that will transport readers into a fantastic mystical world filled with intrigue, gothic magical realms, and dark forbidden fantasy. All of these short stories are cleverly written, filled with twists and turns, and wonderful character development. Marr possesses this amazing ability to draw readers in and keep them entranced, her writing is clear and concise, and her world building skills are phenomenal. Most of her character's, whether old or new, are full of so much grit, strength, determination, and spirit that it's hard not to like even the most unlikable ones. The otherworlds she's able to transport readers to, are unlike any other that I've personally read before. They are beautifully dark, deeply rich with lush overwrought emotion, and are as dangerous as they are seductive.

The beauty in Faery Tales and Nightmares is the variety Marr offers with her short stories. Some of them are set in her Wicked Lovely series, allowing readers to re-visit beloved characters and other's are new and introduce different characters with interesting stories of their own to tell. All of the stories possess vivid descriptions that are wickedly dark and alluring, intensely grotesque in a sense, or bittersweet and charming. There's a lot brought to the table with these original shorts that will resonate with readers on a deeper level. Marr has this fantastic way of giving a fresh and exciting spin on the myth's that few of her short works are based in. There's a wonderful sense of balance between all of the short stories, which there are twelve all together, included in this collection of stories.

Fans of Marr's Wicked Lovely series will definitely want to read this novel, as there are glimpses of beloved characters such as Nial, Irial, Devlin, Ani, Seth, among other's that show up and paint such a wonderfully elaborate picture of their worlds. If I personally had to pick out my favorite of the short works, I would have to say that I really enjoyed The Sleeping Girl and the Summer King, Love Struck, Winter's Kiss, and Old Habits. All of these short pieces of fiction were enthralling, deeply imaginative, filled with gripping emotion, and hidden darkness. Faery Tales and Nightmares is such a wickedly alluring novel that any fan of Melissa Marr herself, Holly Black, or Kimberly Derting would be sure to love.

{Small Note: This book was received from ATW ARC Tours, in exchange for an honest review which I will provide in a timely manner. No money exchanged hands, I review books for fun because I love to read. I am not interested in monetary gain.}