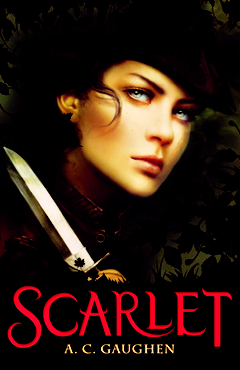 Scarlet
By A.C. Gaughen
Publisher: Walker Childrens
Publish Date: February 14, 2012
Format: Hardback, pp 304
Age Demographic: Young Adult
b&n // amazon

Many readers know the tale of Robin Hood, but they will be swept away by this new version full of action, secrets, and romance.

Posing as one of Robin Hood's thieves to avoid the wrath of the evil Thief Taker Lord Gisbourne, Scarlet has kept her identity secret from all of Nottinghamshire. Only the Hood and his band know the truth: the agile thief posing as a whip of a boy is actually a fearless young woman with a secret past. Helping the people of Nottingham outwit the corrupt Sheriff of Nottingham could cost Scarlet her life as Gisbourne closes in.

It's only her fierce loyalty to Robin—whose quick smiles and sharp temper have the rare power to unsettle her—that keeps Scarlet going and makes this fight worth dying for.

*Summary taken from Goodreads.
❝My Thoughts❞
Scarlet is an amazingly well written, action packed, captivating debut novel from author, A.C. Gaughen. It's a cleverly written modernized spin on a beloved classic legend handed down for centuries. Sometimes dark and gritty, yet full of so much hope and compassion Scarlet will leave readers breathless with anticipation. It's chalked full of wonder and love and redemption and the social injustices of what's right and wrong. Gaughen puts readers right into the story with her beautiful scenery and brilliant descritptions.

The character development is magnificent. Scarlet is an incredibly fearless young herione that readers will fall in love with. She's strong, loyal and determined, but also comes with a mysterious past filled with secrets of her own. In this classic modern day re-telling of a fairytale classic, she is simply a breath of fresh air. She's agile and quick-witted as she helps the people of Nottingham out-manuver their corrupt sheriff. There's a bit of an edge to this darker re-telling than most, that poses the question of whether Robin Hood's sidekick was actually a girl, instead of a quick-witted male. History books have nothing on this wonderful re-telling of a classic legend.

One of the things that I enjoyed immensely regarding this novel, is how Scarlet focused on the task of helping the people of Nottingham, more than she did the feelings of affection brewing from both Robin and John. Gaughen showed great care in keeping to the history of the legend, but also giving her own personal spin which makes even more fascinating, as well. This time, love and the affections of a potential significant other didn't seem to get in the way of the main goal of the protagonist. Scarlet has a moral conscience all her own and she deals with guilty feelings and battles with doubts of ever being redeemed. This is where some of the darkness seems to filter in and cover the light.

Wildly gripping, Scarlet is full of so much daring action and adventure, pocketfulls of hidden secrets, and underlying hints of budding romance that is enough to fulfill any reader. The story that Gaughen sets out to tell, entails beautiful imagery and heart-pounding heroism that is incredibly thrilling. It is a lively tale that is filled with dark and alluring characters, social injustices that come in more forms than one, and and wonderfully developed characters hidden conflicts of their own and intriguing depth. Fans of wonderful fairytale re-tellings such as the seven dancing princesses, Snow White, or the beautiful writing style of Jessica Day George, Heather Dixon, or Wendy Delsol will absolutely fall in love with A.C. Gaughen's debut, Scarlet.

{Small Note: This book was received from Walker Books For Young Readers via Netgalley, in exchange for an honest review which I have provided in a timely manner. No money exchanged hands, I review books for fun because I love to read. I am not interested in monetary gain.}