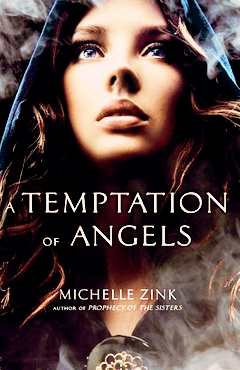 A Temptation of Angels
By Michelle Zink
Publisher: Dial
Publish Date: March 20, 2012
Format: Hardback, pp 448
Age Demographic: Young Adult
b&n // amazon

Even angels make mistakes in this page-turning epic romance...

When her parents are murdered before her eyes, sixteen-year-old Helen Cartwright finds herself launched into an underground London where a mysterious organization called the Dictata controls the balance of good and evil. Helen learns that she is one of three remaining angelic descendants charged with protecting the world's past, present, and future. Unbeknownst to her, she has been trained her whole life to accept this responsibility. Now, as she finds herself torn between the angelic brothers protecting her and the devastatingly handsome childhood friend who wants to destroy her, she must prepare to be brave, to be hunted, and above all to be strong, because temptation will be hard to resist, even for an angel.

Michelle Zink masterfully weaves historical fantasy with paranormal romance to create a gripping tale of love and betrayal.

*Summary taken from Goodreads.
❝My Thoughts❞
A Temptation of Angels is a beautifully written blend of historical fantasy and paranormal. Its heart-pounding tale of epic romance and betrayal is sure to keep readers enthralled as they continue to flip the pages. Zink masterfully pens such an emotionally powerful and deeply moving novel filled with strength of character, incredible bravery in the face of overwhelming odds, danger, and stunning imagery.

With the Keepers being murdered, it is up to the three remaining angelic decendents to figure out who is comitting them and stop them before the world finds itself in dangerous peril.

Mistakes are made by almost anyone it seems, even angels aren't exempt from them. Zink's spin on this is not only cleverly written, but incredibly intriguing as well. It almost makes them seem a little more human. Her characters are wonderfully developed and deeply engaging to read. Helen is incredibly strong in of the tragedy of losing her parents and gaining the knowledge that she is one of three remain angelic decendants that is tasked to protect the world's past, future, and present. At sixteen, Helen proves herself to be capable of accepting the responsibilities that she's been tasked with far better than than most. She's fiercely independent and incredibly strong-willed, yet flawed in all of the right ways which makes her very likable heroine.

The romance in this novel that slowly begins to grow between Griffin and Helen is beautifully written and incredibly sweet. The hints of a love triangle developing along the way, is what really made it even more real, heartbreaking, and sad. Usually, I don't particularly care for the over-use of love triangles, but in A Temptation of Angels it works and I actually found myself enjoying the push and pull of it.

The mythology Zink introduces to readers in A Temptation of Angels is unique and definitely compelling enough to keep readers interested and turning pages. The scenery is beautiful, as the story takes place mostly in underground London, and has a way of pulling readers right into the story. The perfect balance of paranormal blended with historical fantasy and the unique but interesting characters, make it an enjoyable read. It's fast-paced, filled with a lot of action, danger, and twists and turns that will keep readers on edge and their stomach tied up in knots. The characters are extremely memorable (even the minor ones) and possess wonderful flavors of personality.

A Temptation of Angels is a wildly gripping and beautifully written tempting piece of fiction.

{ This ARC was provided by ATW ARC Tours, in exchange for an honest review which I have provided. No money exchanged hands, I review books for fun because I love to read. I am not interested in monetary gain. Any piece of this ARC that was/wasn't quoted, is not part of the finished product and should not be perceived as such.}