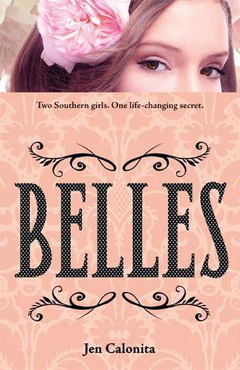 Belles
by Jen Calonita
Publisher: Poppy
Expected Publication: April 10, 2012
Pages: 368
Age Demographic: Young Adult
amazon | b&n


Fifteen-year-old Isabelle Scott loves her life by the boardwalk on the supposed wrong side of the tracks in North Carolina. But when tragedy strikes, a social worker sends her to live with a long-lost uncle and his preppy privileged family. Isabelle is taken away from everything she's ever known, and, unfortunately, inserting her into the glamorous lifestyle of Emerald Cove doesn't go so well. Her cousin Mirabelle Monroe isn't thrilled to share her life with an outsider, and, in addition to dealing with all the rumors and backstabbing that lurk beneath their classmates' Southern charm, a secret is unfolding that will change both girls' lives forever.

* Summary taken from Goodreads.
❝My Thoughts❞
Belles is an endearing, heartfelt and romantic young adult contemporary that is funny, charming, and incredibly sweet. It's a delightful rags-to-riches tale full of heartbreak, irresistible blossoming romance, and a realistic approach to underlying familial secrets. The characters and plot are wonderfully entertaining, bringing so much drama and life to the pages. Jen Calonita pens the contrast between Izzie's world and Mira's in such an interesting and very distinct light. It makes it easier to connect and sympathize with both girls, in such an awkward situation their faced with.

Izzie is such a wonderful character, full of determination, pride, and strength. She's proud of where she comes from and the accomplishments she's made, but she's also had sort of a tough life. Losing her mother at the tender age of ten and then later having to take care of her grandmother who was suffering from dementia and learning how to survive in a world where she didn't feel like she belonged. She's tough though and does her best to not let others who look down on her in Emerald Cove get to her too much. Mira, on the other hand, comes off a bit shallow and fearful of doing the things she likes to do and being true to who she really is. The two girls struggle to get along with one another, until Mira starts to grow and beings changing her perception on people and certain things. She begins to develop her confidence a little more and it adds a redeeming quality and appeal to her character.

The romance in Belles is hopeful and charming at best, both Kellan and Brayden are wonderfully matched with the girls. It doesn't overtake the story that's being told, which is a breath of fresh air. It adds its own hint of sweetness to the story, which softens the blow of some of the twists thrown out. There is subtle mystery that makes it even more intriguing and readers simply will not want to put this beautifully written and touching story down. It's a fun filled fast paced story full of gossip, heartache, touching romance, and a wonderfully poignant storyline that will leaves readers aching in the best of ways possible. I would definitely recommend this as the perfect summer poolside/beachside or lazing it up in a hammock sipping on some homemade lemonade or iced sweet tea in the backyard on a perfect warm and sunny day full of relaxation and a fantastic read.
Want to purchase a copy of Belles by Jen Calonita?
You can do so by visiting my Amazon Store and adding them to your shopping cart. While you're there, feel free to look around, you might find something else you want. This is something new that I'm trying out, so thank you so much for helping me out and for supporting me and my blog. I hope you enjoyed the review and the books, if you've already read them. If you haven't, then I definitely suggest you pick up a copy for yourself or even for someone else, if you think they'll like them.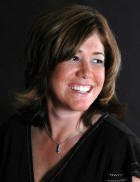 ABOUT JEN CALONITA

Website || Twitter || Facebook || Goodreads

It's no secret how Jen Calonita knows the inside scoop on young Hollywood. A former Senior Entertainment Editor at Teen People, Jen has interviewed everyone from Reese Witherspoon to Zac Efron. An entertainment journalist for the past ten years, Jen has written for TV Guide, Glamour and Marie Claire.

Author information taken from her Goodreads.
{ This ARC was provided by ATW ARC Tours, in exchange for an honest review which I have provided. No money exchanged hands, I review books for fun because I love to read. I am not interested in monetary gain. Any piece of this ARC that was or wasn't quoted, is not part of the finished product and should not be perceived as such. Instead, you should compare and check it against a finished copy once it is released.}