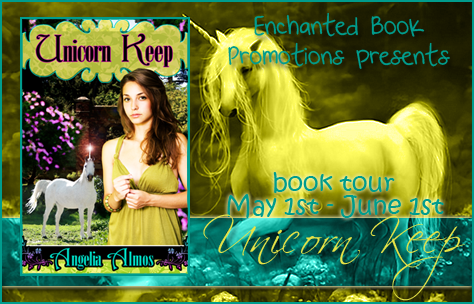 Enchanted Book Tours is hosting a release party for Angelia Almos young adult release, Unicorn Keep. Today I am lucky enough to be featuring a giveaway for two copies of Horse Charmer for two lucky winner's. Check it out below, along with all of the details about this wonderfully new enchanting fantasy, Unicorn Keep.

May the odds be ever in your favor! ;)

ABOUT THE AUTHOR: Angelia Almos formed a lifelong passion for horses at the age of five when she talked her parents into riding lessons. Horses often play a prominent role in her young adult fantasy books. She also write horsey nonfiction and space opera. She lives in the Sierra Nevada Mountains with her husband, two daughters, two dogs, two cats, and one pony (she often thinks of bumping that number up to two).



Create Space || Amazon || Barnes&Noble || Smashwords
*Available in both Print & E-Book Formats

Jiline of Ainsley is dismayed when her best friend is selected by the mages to become a unicorn keeper at the Keep, an isolated mountain fortress. Especially since Madelen is in love and engaged to the richest boy in the village. Jiline on the other hand has no prospects of marriage or a trade in their small village. So, she comes up with a plan to take Madelen's place at the Keep and hopefully flunk out of unicorn keeper training before the mages can discover the deception. Unfortunately, the unicorns have their own plans for her.

Mage Herrick, son of the Keep Mage, returns home to the Keep as the trainee keepers arrive. A chance encounter with Jiline, who he believes is Madelen, on the trail sparks a magical connection between the two. Knowing he can't feel a magical draw to someone who has no magic, he tries to prove Madelen (Jiline) has magic within her. His attention brings unforeseen complications for both of them.

For more stops on this awesome launch party, you can find them here on the Unicorn Keep Release Party tour page. There are a ton of exciting things that are happening on this book launch/release, like fantastic reviews, giveaways, author interviews, character interviews, guest blog posts and book excerpt posts, and so much more. Join in on the fun!!!

You really don't want to miss out on this.
Giveaway!!! Giveaway!!! Giveaway!!!
a Rafflecopter giveaway
Purchase Unicorn Keep:
Amazon
|
B&N
>