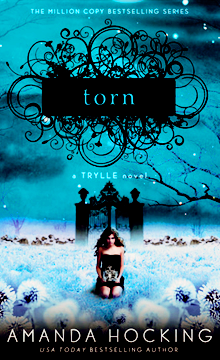 Torn
by Amanda Hocking
Publisher: St. Martin's Press
Published: February 28, 2012
Pages: 336
Age Demographic: Young Adult
amazon | b&n


When Wendy Everly first discovers the truth about herself—that she's a changeling switched at birth—she knows her life will never be the same. Now she's about to learn that there's more to the story…

She shares a closer connection to her Vittra rivals than she ever imagined—and they'll stop at nothing to lure her to their side. With the threat of war looming, her only hope of saving the Trylle is to master her magical powers—and marry an equally powerful royal. But that means walking away from Finn, her handsome bodyguard who's strictly off limits…and Loki, a Vittra prince with whom she shares a growing attraction.

Torn between her heart and her people, between love and duty, Wendy must decide her fate. If she makes the wrong choice, she could lose everything, and everybody, she's ever wanted…in both worlds.

As a special gift to readers, this book contains a new, never-before-published bonus story, "One Day, Three Ways," set in the magical world of the Trylle.

* Summary taken from Goodreads.
❝My Thoughts❞
Torn allows readers to step back into the dark mystical entrancing world of the Trylle. Wendy Everly has just learned the truth about who she is, a changeling who was switched at birth. Her life will never be the same again, after this self-discovery. She struggles in many ways, torn between making decisions regarding her heart and the people she cares deeply for, her love and the duty that she's found herself bound to, and the decision of what her fate will be. In many ways, it is endearing and a little heartbreaking to watch her overcome certain things and tackle others with strength and growing resilience.

Her character grows and becomes much more developed as she soon realizes that she shares more of a connection with the Vittra than she ever expected to share. In order to save the Trylle she'll have to learn how to harness the magical powers that she possesses, as well as marry an equally powerful Royal. All of this will come at a high cost to Wendy, because it means walking away from two people who mean a great deal to her, Finn and Loki with whom she shares a blossoming attraction to. If she isn't careful, she could potentially lose everything by making the wrong the choice, affecting both worlds in a devastating blow.

Amanda Hocking pens an incredibly fascinating, unique, and original tale of folk lore and magical realms sure to wow and stun readers. Her world building skills are simply mesmerizing and equally entrancing, as they set amazingly high standards for other books in this genre to live up to. The world of the Trylle is beautiful and dark, sprinkled with light peeking in through the nooks and cracks. It's a world brimming with so much emotion and some of the most imaginative action packed thrill seeking battle scenes, I've ever read. There's more light shed on the growing history of the Trylle, Wendy's mother's actions and cool almost cruel tough love, and insight behind the inner-workings of the Trylle themselves. The Troll lore is exciting and invigorating, providing more information on the magical trolls and why they separated into two warring kingdoms pitted against one another.

The characters in Torn are so much more interesting and intriguing, as they grow stronger and become more developed. I found it interesting the back-story given on Flora (Wendy's mother), explaining her coolness and the treatment of her daughter. In some ways, it made me sympathize with her as a reader and almost sort of find her likable, to an extent. Matt was incredibly delightful to get to know, as he was such a supportive brother to Wendy in so many ways that made him amazing. It was nice to see how the smaller supportive characters fit into the story and had a place of their own, while also still preserving their own relevance to the story being told.

I found Loki to be just completely irresistible and very swoon worthy. He's just incredibly sweet and sardonic in such a fun way that kind of makes you want to root for him. He's just full of so much willful bad boy charm that it was charming to get to know him and to see his connection with Wendy slowly grow over time. There's a bit of a love triangle almost set-up perfectly here, as readers watch the relationship between Wendy and Finn start to take a turn for the worst, unraveling painfully. It's heartbreaking and you can't help, but feel for them both as they both try and deal with it in their own ways. It's easy to see how both Finn and Loki could be good for her in many different ways for different reasons. Finn is different in this installment to the trilogy, where he's pulling away from Wendy and putting distance between them because he's bound to his people and his duty.

In many ways, Torn, is a highly engaging novel with many breath taking thrills and adventure to light the way for readers, keeping them on the edge of their seats with deeply riveting twists and turns and an endless supply of unpredictability. It just simply surpassed any expectations that I might have personally had for it and turned into such an amazing page-turner of awesome. Incredibly imaginative, Amanda Hocking creates a world in which the reader will want to immerse themselves into and never leave.
Want to purchase Amanda Hocking's Books?
You can do so by visiting my Amazon Store and adding them to your shopping cart. While you're there, feel free to look around, you might find something else you want. This is something new that I'm trying out, so thank you so much for helping me out and for supporting me and my blog. I hope you enjoyed the review and the books, if you've already read them. If you haven't, then I definitely suggest you pick up a copy for yourself or even for someone else, if you think they'll like them.

{ This ARC was provided by St. Martin's Press, in exchange for an honest review which I have provided. No money exchanged hands, I review books for fun because I love to read. I am not interested in monetary gain. Any piece of this ARC that was or wasn't quoted, is not part of the finished product and should not be perceived as such. Instead, you should compare and check it against a finished copy once it is released.}