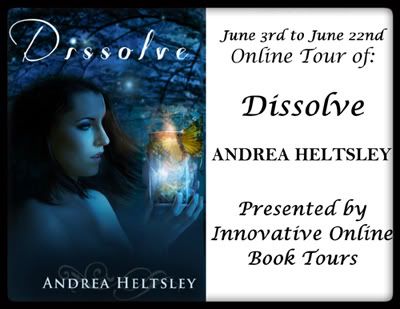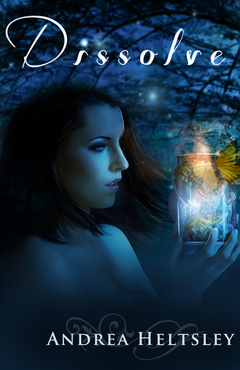 Dissolve
by Andrea Heltsley
Publisher: Andrea Heltsley
Expected Publication: April 13, 2012
Pages: 424
Age Demographic: Young Adult
amazon | b&n


Everything seemed to be going right for Cora. She had a wonderful fiance, a great best friend and a fulfilling life. One day, a tragic event caused that life to crumble around her. She turned to her best friend in her time of need. They embarked on a search for answers, delving deeper into a web of magic and destruction. The closer they got to the truth, the more questions they had. To Cora, magic was the stuff of fairy tales. Immersed into a very different kind of world, the real storm was just beginning to take hold.

* Summary taken from Goodreads.
❝My Thoughts❞
Dissolve weaves an intriguing web of dark magical danger and intense destruction that will have readers hanging onto the edge of their seats with anticipation. In a daring search for the truth, which proves more questions than answers, Cora's life is spun upside down as a result of a tragic event. Andrea Heltsley pens a wonderfully beguiling world full of magical fascination and fairytales with a twist of originality and mystery. It's a fast paced story brimming with wonderful story concepts, dark amazing twists and turns, and unexpected endings. The adventure is exhilarating and highly engaging, full of action and super powers used to save the lives of many.

As much as I personally enjoyed this book, I still left a little unsettled with overlooking a couple of drawbacks that it possessed. The details could have been a little more in depth than explored and the direction of the story a little less confusing. While the characters were mostly likable, very relatable, and easy to connect with a few of them seemed to just fall flat and it made it hard to wrap my head around them and the story they're telling a little bit. As with any book, there is always going to be one or two things that just sort of seem off-putting a bit, but that doesn't mean that it's not worth reading.

The concept of the story was definitely original as is the plot and the twists and turns were full of intense danger and filled with the appropriate amount of fear and desperation in a sense. Andrea Heltsley has written a very different and definitely appealing and refreshing novel that I would definitely recommend to anyone who enjoys paranormal mystery and dark twisted fairytales. It held so much mystery and intrigue, enough to keep readers captivated as to who the real villian was and what was going to happen next. Those are marks of a great writer in general, being able to keep readers guessing and wondering what's to come.

Website || Facebook || Goodreads

{ This E-Book was provided via Andrea Heltsley through Innovative Online Book Tours in exchange for an honest review. No monetary gain was profitted from this exchange.{