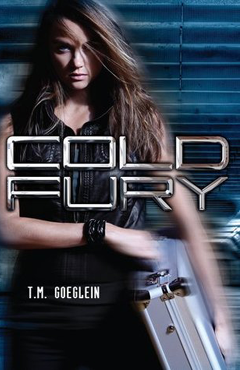 Cold Fury
by T.M. Goeglein
Publisher: Putnam Juvenile
Expected Publication: July 24, 2012
Pages: 288
Age Demographic: Young Adult
amazon | b&n


Jason Bourne meets The Sopranos in this breathtaking adventure

Sara Jane Rispoli is a normal sixteen-year-old coping with school and a budding romance--until her parents and brother are kidnapped and she discovers her family is deeply embedded in the Chicago Outfit (aka the mob).

Now on the run from a masked assassin, rogue cops and her turncoat uncle, Sara Jane is chased and attacked at every turn, fighting back with cold fury as she searches for her family. It's a quest that takes her through concealed doors and forgotten speakeasies--a city hiding in plain sight. Though armed with a .45 and 96K in cash, an old tattered notebook might be her best defense--hidden in its pages the secret to "ultimate power." It's why she's being pursued, why her family was taken, and could be the key to saving all of their lives.

Action packed, with fresh, cinematic writing, Cold Fury is a riveting and imaginative adventure readers will devour.

* Summary taken from Goodreads.
❝My Thoughts❞
Cold Fury is an epic action packed force of amazing. It's brilliantly engaging with crazy masked assassins, cops gone rouge, and turn coat relatives. T.M. Goeglein pens a breath taking riveting novel, filled with unexpected twists and turns that will have readers grasping the edge of their seats all the way through it. The world he creates and the characters he super-imposes within it, are just as intriguing as they are mysterious and full of fascinating quirks. He wow's his audience with an action filled, dangerous, and refreshing spin on the Chicago Outfit.

Sarah Jane, is such an phenomenal kickass herione who is cleverly brilliant, cunning in her own way, and just as resourceful as she is resilient. She finds herself in an unlikely predicament, being chased and attacked it seems at every turn, all the while searching for her family and the many answers to her questions. With an old tattered notebook that might be her best chance to save her family, a 0.45, and 96k in cash she's on the run moving and never stopping long enough to stay in one place at a time, in an attempt to survive. It's amazing how well balanced and likable Sarah Jane is, I found it enjoyable to see a more realistic side of her vulnerability tempered against her badass fighting skills of steel, and typical normal teen angst. The connection between Sarah Jane's "emotional core" being steeped in a strong connection to family and "cold fury" on T.M. Goeglein's behalf is a wonderfully fascinating and intriguing element of the book itself. It gives it a bit of its own originality in a world of action packed adventures currently being written in the young adult fiction market these days.

Cold Fury is cold burning flame of dark gritty intense emotions, pain, betrayal, and action packed adventure that is enough to hook any reader who enjoys mystery and action novels. The pages are filled with tension and dark twists and turns that are unpredictable and captivating. It's sort of like The Sopranos meets addictive unputdownable fiction. The ending will not only keep readers on the edge of their seats, but will also have them screaming for more background and heart stopping action as far as the Outfit and the Sarah Jane's search for her family and the answers to her questions.
Want to purchase a copy of Cold Fury by T.M. Goeglein?
You can do so by visiting my Amazon Store and adding them to your shopping cart. While you're there, feel free to look around, you might find something else you want. I hope you enjoyed my review for Cold Fury by T.M. GoegleinI definitely suggest you pick up a copy for yourself or even for someone else, if you think they'll like it.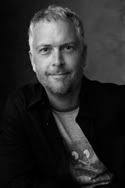 ABOUT T.M. GOEGLEIN

Website || Twitter || Facebook || Goodreads

T.M. Goeglein began his career as a writer of print and television ads for a host of advertising and media companies. As a screenwriter, he created both original scripts and worked as a script doctor for several production companies in Los Angeles. He was an original contributor to the Huffington Post 'Living' section, and continues to write for both the national edition and Huffington Post Chicago. Read T.M. Goeglein's stories on the Huffington Post.

His debut young adult novel, COLD FURY, will be published by Penguin/Putnam in 2012 and is the first in a trilogy; he's currently working on the second book. He lives in Chicago with his wife, Laura, and two young children.

Author information taken from her .
{ This ARC was provided by ATW ARC Tours, in exchange for an honest review which I have provided. No money exchanged hands, I review books for fun because I love to read. I am not interested in monetary gain. Any piece of this ARC that was or wasn't quoted, is not part of the finished product and should not be perceived as such. Instead, you should compare and check it against a finished copy once it is released.}