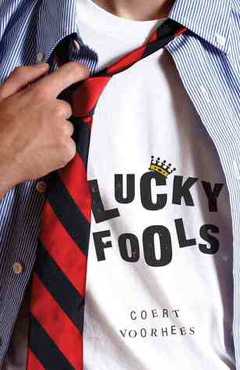 Lucky Fools
by Coert Vorhees
Publisher: Hyperion Book CH
Expected Publication: July 10, 2012
Pages: 304
Age Demographic: Young Adult
amazon | b&n


David Ellison dreams of acting at Juilliard, but he's expected to attend nearby Stanford University, just like all of his classmates at hard-driving Oak Fields Prep. As if wasting his private school education weren't enough, David is also on track to destroy his relationship with his girlfriend, Ellen, when he finds himself falling for his new co-star, Vanessa.

With David's Juilliard audition approaching, and his relationship teetering on the brink of disaster, Oak Fields is thrown into chaos as a mysterious prankster begins attacking the school's highest achievers, determined to sabotage their college aspirations. Anyone who excels is a potential target, and David, the star of every play, could be next.

From the author of the highly praised The Brothers Torres comes a dangerously insightful book about enduring the pressures of high school, surviving the ins and outs of love, and fighting for your dreams, no matter what.

* Summary taken from Goodreads.
❝My Thoughts❞
In Lucky Fools, David Ellison has been dreaming of attending the prestigious Julliard. He has exceptional acting abilities and wants to study acting seriously, however, it's expected of him to attend Stanford University. His relationship with his current girlfriend is also threatened by his developing crush on his co-star Vanessa. As David's audition for Julliard f ast approaches and his relationship seems to be suffering, chaos ensues at his private prep school Oak Feilds when a mysterious prankster starts targetting a series of attacks on some of the schools most promising acheivers. It seems anyone who has the potential of acheiving high standards could be next, including David.

Coert Vorhees does a masterful job of tackling the everyday pressures of being an exceptionally talented young adult in such a realistic way that readers are able to connect with. In a world of young adult fiction that is mostly brimming with female heriones, it is refreshing to see this story told from a male's persepctive. David is just as confused about college life and love, as anyone should be at that point in their life. The only drawback to his character was the lack of growth and dvelopment, except for the last few chapters of the book. This made it a little bit harder to connect with him on some levels.

The plot and premise of Lucky Fools itself, was fun and interesting to read even though it may have been a little bit predictable in some areas. There is unbelievable amounts of pressure put on these young characters as well as other happenings going on in the book, but despite all of that the author takes the story and makes it come together and really work. It's a fast and enjoyable read that may be best suited for those in high school. The romance is sweet and endearing and there are some really fun moments in the book overall. It was a pretty good read and I would definitely recommend giving it a try.

Want to pre-order a copy

of Lucky Fools

by Coert Vorhees?
You can do so by visiting my Amazon Store and adding them to your shopping cart. While you're there, feel free to look around, you might find something else you want. I hope you enjoyed the review for Lucky Fools and you decide to give it a chance. If you haven't read it, then I encourage you to pick up a copy for yourself or even for someone else, if you think they'll like it.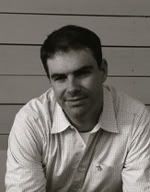 ABOUT COERT VORHEES

Website || Twitter || Blog || Goodreads

Coert Vorhees latest young adult novel is, Lucky Fools. His previous novels include The Brothers Torres, Annie Fleet and the Golden Janguar, and Storm Wrangler.

Author information taken from her Goodreads.


{ This ARC was provided by ATW ARC Tours, in exchange for an honest review which I have provided. No money exchanged hands, I review books for fun because I love to read. I am not interested in monetary gain. Any piece of this ARC that was or wasn't quoted, is not part of the finished product and should not be perceived as such. Instead, you should compare and check it against a finished copy once it is released.}