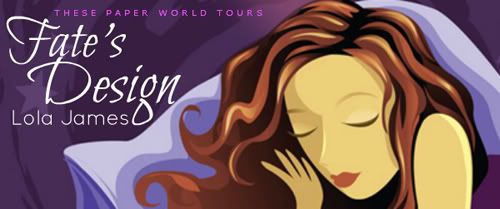 I was lucky enough to get to be a part of the blog tour for Lola James young adult paranormal novel, Fate's Design. It's such a saucey little novel, full of sexy swoon worthy boys, beautiful Italian scenery, and wonderfully engaging characters that will charm the socks of anyone. Seriously, this is a truly fantastic summer romance that you just don't want to miss out on. I fell in love with the subtle paranormal edge that Lola James crafted marvelously well.

Stay tuned to my blog this week, because I've got Dream Casting the characters for Fate's Design coming up on Friday and then Top Ten Favorite Places In Italy plus a giveaway and so much more next Tuesday. You for sure don't want to miss out on those goodies!

Now, go read this book!!!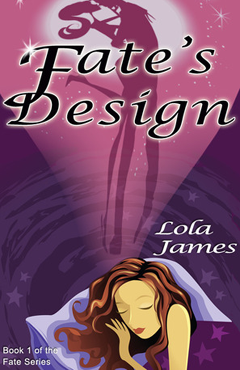 Fate's Design
by Lola James
Publisher: LJ Publishing
Publication Date: May 25, 2012
Pages: 220
Age Demographic: Young Adult/Adult Crossover
amazon | b&n


A summer vacation in Italy with her twin sister, Morgan, is just what Megan Romano needs. But instead of fun, wine, and relaxation, she finds unexpected romance. Alexandros DiPiero, a sexy and mysterious Italian businessman, falls for Megan the minute he lays eyes on her, but Megan knows it's too good to be true.

Increasingly haunting dreams that warn of danger and destiny plague Megan's every sleeping moment. As her nightmares become deadly and her love life heats up, Megan will come face to face with her worst fear.

* Summary taken from Goodreads.
❝My Thoughts❞
In Fate's Design Megan finds a little more than she bargained for, as she sets on an incredible summer trip to Italy, to visit her twin sister Morgan. In this sweet, charming romantic novel perfect for the top of the pile summer reading list, Lola James whisks her away on a once in a lifetime summer trip to beautiful Italy that quickly turns into a heated romance she never expected. Alexandros DiPiero is dark, handsome, and mysteriously alluring. Sparks seem to pop and fly, as soon as he sets his eyes on the beautiful Megan, and finds himself instantly drawn to her megnetically attracted. As his attractions and fascination with her grows, she starts getting an inkling of that things just don't seem to be adding up, that maybe he's a little too good to be true.

Dark sinister dreams of fear, destructive danger, and destiny interwined begin haunting her at night, keeping her restless and fearful. As the night terrors become incresingly more volatile and terrifying, Megan comes face to face with her worst fear of all. From Lola James, comes a wonderfully exciting, sexy, daring, and fun read that will have readers thumbing through the pages anticipating an incredibly edgey story sure to captivate and wow them. The descriptive imagery that Lola James pens is beautifully imaginative and alive with amazing vibrancy, that bounces off the pages. It's powerful enough to pull readers into the pages of the story itself and enfold them in such a creatively subtle and edgey paranormal they'll never forget.

Megan and Morgan are like day and night, but they share a bond so deep that nothing can break it. It's incredibly endearing to witness their closeness. The two are iressistably likable and sweet, possessing differences and flaws of their own. Megan's dreams seem to be more confusing than ever, as they seem to be more like visions rather than actual dreams. There are flashes of her with a handsome man who's face she can't see, then they start to blend and shift together showing her with two different men that she seems equally attracted to. Megan can't seem to figure out if the visions are true or if they've been maniuplated somehow to appear as the truth.

Fate plays a huge role in the story this novel has to tell. It was intriguing to see how cleverly Lola James defines it, with this novel. This is where Alexandros comes into the picture. Without divulging too much about it and giving the paranormal edge to the story away, all I can say is that it reminded me of the television series, Tru Calling. It was a favorite of mine, when it was airing, and the overall plot theme is similar (while not being the exact same) to the plot of this novel and it makes it even more appealing.

Fate's Design is a wonderfully rich and powerfully suspenseful story, with subtle romance, charming character's, and beautiful surroundings that will hook readers and have them anticipating the sequel. I would recommend it to anyone who enjoys paranormal and urban fantasy, with light fun romance, and wonderfully engaging plot twists with interesting spins.

Want purchase a copy of Fate's Design by Lola James?
You can do so by visiting my Amazon Store and adding them to your shopping cart. While you're there, feel free to look around, you might find something else you want. I hope you enjoyed reading my review of Fate's Design. I definitely suggest you pick up a copy for yourself or even for someone else, if you think they'll like it.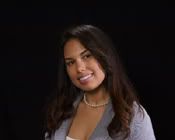 LOLA JAMES

Blog || Twitter || Facebook || Goodreads

Lola James has been reading romance novels since her teens, and fell in love with the paranormal after discovering Anne Rice's Vampire Chronicles. Her love of the dark worlds of vampires and witches, as well as her fascination with Greek mythology led her to create the Spellbound Series, an ongoing Paranormal Romance combining all of the above into tales of suspense with a little bit of humor in an Urban Fantasy setting.

Living in Southern California with her husband and three beautiful children, James finds time to write in between her full-time job as a mother and wife as well as her other full-time job as an HR manager, as well as her academic schedule as she studies for her Master's degree which she hopes to complete in 2013. With the success of Bound to Remember, James hopes to continue to reach an audience that will allow her to leave her HR job and focus on her writing as a full time career.


Author information taken from her Goodreads.



{ This E-Book was provided by Lola James, in exchange for an honest review which I have provided. No money exchanged hands, I review books for fun because I love to read. I am not interested in monetary gain.}